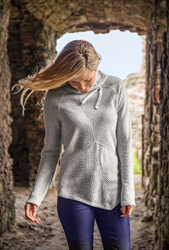 We're blending 'old' with 'new' figuratively, and also literally, as we've created eye catching new styles through the use of recycled wool
Carlsbad, CA (PRWEB) November 11, 2015
prAna's new collection of recycled wool features clothing pieces that are equal parts functional, stylish and sustainable – perfect for adventures from the trail to the city.
"We are excited to offer recycled wool products again this season," said Ellen Krimmel, VP of Design and Merchandising. "We're blending 'old' with 'new' figuratively, and also literally, as we've created eye catching new styles through the use of recycled wool."
For men, the Appian Sweater offers a perfect transition piece for in-between seasons. Made with a recycled-wool blend, brushed polyester back, quilted woven twill in the front, and lined with fleece. It also features zip pockets to stash valuables (or chilly hands). Recycled wool is also naturally anti-bacterial and mildew resistant, helping to regulate body temperature.
For women, the Mattea Sweater adds style to sustainability. Exposed seams in a unique geometric pattern create feminine shape in a pullover silhouette. The natural warmth and moisture management of recycled wool is blended with soft polyester to create softer comfort. With a twill tape drawcord detail at the collar, Mattea Sweater is a great layer for any season.
"The recycled wool we use at prAna is made with fibers and cuttings from new and used garments," said prAna's Director of Sustainability Nicole Bassett. "These garments are sorted, cleaned and reduced down to fiber at a facility in Italy that then gets spun into yarn and knitted into new wool pieces. Using recycled wool in our prAna clothing helps eliminate environmental waste and pollution."
There are many environmental benefits to using recycled fibers such as wool. These include:

Reducing energy, water and chemical use
Decreasing waste by keeping used garments and materials out of landfill sites, while reducing emissions from incinerators
Reducing the land and resources used by grazing sheep
To learn more about prAna's commitment to sustainable practices, including the use of recycled wool, please visit the sustainability section of prAna's homepage. To see the entire fall/winter collection, please visit prAna.com.
About prAna: prAna clothing and gear is made with intention. Every detail — from trim to fabric and hangtags — is carefully designed to enhance our lives today while still considering the needs of tomorrow. For more than 22 years, this vision has been at the root of prAna's relationships with customers and retailers. prAna clothing is designed in Southern California with style and versatility in mind. prAna is deeply committed to mitigating the impact they have on the environment every step of the way, from manufacturing to retail. It takes special care to ensure its clothing and accessories are made in safe and fair working conditions. prAna is sold in five flagship stores, online at prana.com, and in 1,400 specialty retailers across the US, Canada, Europe and Asia. prAna is one of the portfolio brands of Columbia Sportswear Company (COLM).
For a list of prAna retailers, please visit prana.com/dealer-locator.html
Find @prAna on Facebook, Twitter, Pinterest, and Instagram.
-30-