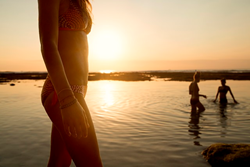 Perfect for surfing, yoga, swimming and relaxing, each piece comes with prAna's trademark attention to detail, high quality and fashion-forward designs
Carlsbad, California (PRWEB) March 12, 2014
Dive in to a fresh season of watersports with prAna's colorful, flattering and functional collection of swimwear.
"We've focused on keeping people supported with versatile styles they can reach for again and again, so they look good and feel confident working out or lying out," said Christian Castellani, prAna's Sr. Merchandise Manager-Direct. "Our suits actually fit, so whether you're paddling for a shore break or sunning by the pool, we've got you covered. The colors and styles are beautiful."
prAna has worked to design an innovative collection that stands alone yet can also be paired with all the apparel and accessories now launched for Spring 2014. Perfect for surfing, yoga, swimming and relaxing, each piece comes with prAna's trademark attention to detail, high quality and fashion-forward designs. They are also equipped with SPF protection from harmful UV rays.
"Our suits are ready to go with the flow," said prAna's Senior Product Developer, Rachel Miller. "The Zira bikini top can double as a running top; the Sayha bikini bottom fits in just as well in the surf as it does on the pool deck – each piece is designed to give the support we crave from our swimwear so we jump in, bend and move with confidence."
The prAna swim collection is eminently wearable, and each piece is sold separately so people can easily mix and match. It is available in stores and online at prAna.com.
About prAna:
prAna is a lifestyle brand that draws its name from the ancient Sanskrit word for breath, life and vitality of the spirit. Born from climbing and yoga, the prAna team creates mindfully-designed, purposeful and stylish apparel for free spirited people to pursue their passions on the water, mat, rock, trail, and street. From its beginning in 1993, prAna has been committed to weaving sustainable practices into its operations and supply chain, working to reduce its impact on soils, water supplies and other natural resources while promoting conservation. PrAna is also conscious of its impact on communities and has worked to include a growing number of fair trade styles every year. It is the first apparel company in North America to offer Fair Trade USA certified products and accessories. PrAna is sold in five flagship stores, online at prana.com, and in 1,400 specialty retailers across the US, Canada, Europe and Asia.
For a list of prAna retailers, please visit http://www.prana.com/dealer-locator.html.