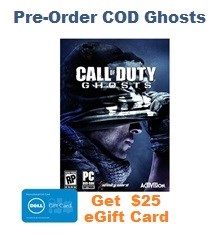 Gamers can pre-order COD Ghosts for $59.99 & get a $25 Dell Promo eGift Card.
(PRWEB) October 26, 2013
Dell's latest promotional discount and offer is being featured on the Bizwaremagic site for all its patrons and subscribers. Customers can now pre-order the latest video game in the popular COD (Call of Duty) series for $59.99 and receive a $25 Promo eGift Card from Dell. COD Ghosts will be released November 5th, 2013, but potential buyers can get a jump on fellow gamers by pre-ordering the game now.
Call of Duty is the latest game in this popular "first person shooter" series published by Activision and developed by Infinity Ward. This critically acclaimed Modern Warfare series is readily snapped up by loyal gamers who anxiously wait for the next storyline to unfold. Actually, Call of Duty: Ghosts is supposed to have all new game play which is based on an entirely different storyline and powered by what the Infinity Ward studio is calling an "innovative next-generation Call of Duty engine.
The rumor mill is already going into overdrive with this release where one leak has the Call Of Duty: Ghosts with a 50GB Install on PS4. That's rather large since most games now have 10GB or smaller. Wikipedia has system requirements at 40 GB of free hard drive space, 6 GB Ram, Windows 7 64-bit or Windows 8 64-bit, Intel Core 2 Duo 8200 2.66 GHz or better, Nvidia GeForce GTS 450 Ti or ATI Radeon HD 5870 or higher.
Parents should be aware COD Ghosts is a multiplayer role playing "shooter" game which is not suitable for younger children. They should know the ESRB (Entertainment Software Rating Board) Rating is Mature 17+ and has a PEGi (Pan European Game Information) Rating of 18. At least on promotional material it is 18, some sites are claiming PEGI is giving this game an actual rating of 16, but regardless of the rating, this is a graphic shooting game more suitable for a mature audience.
Gamers can now pre-order COD Ghosts through the Dell discount link and receive a $25 Promo eGift Card. This offer also comes with free shipping. Please see the official Dell site for all terms/conditions of this offer and eGift card where some restrictions may be applied.
To discover more about this Call of Duty Ghosts Game and pre-order offer go here: http://www.bizwaremagic.com/call_of_duty_ghosts.htm or download our comprehensive laptop buying guide here: http://www.laptopcomputerguide.org All products/companies mentioned above are registered trademarks of their respective owners and companies.