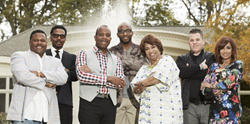 Stop arguing about the WORD and the SPIRIT there is NO rivalry, there is NO competition, they are ONE.
(PRWEB) January 16, 2015
Corletta Vaughn is a Christian counselor and pastor as well as the author of the upcoming Teach Your Daughters to Fly, to be published by Next Century Publishing on April 21, 2015. Now, Dr. Vaughn's expertise in helping others with their life struggles is being recognized as she is featured on a new reality show called "Preachers of Detroit." Dr. Vaughn will appear on the show which premieres on February 11, 2015, at 10:00 p.m, with a two-hour special. The first episode will be aired on February 18, 2015.
Dr. Vaughn's new book, Teach Your Daughters to Fly, details her experiences and wisdom from working with young women as a pastor and coach for more than 20 years. In this book, Dr. Vaughn discusses adulthood issues that spring from the lack of a strong male role model. She has termed this lack "father hunger," and her book emphasizes the need for fathers in young women's lives. Dr. Vaughn will share some of the insights from her book on the show, and viewers can learn more about her writing by watching the show.
About Dr. Corletta J. Vaughn:
Dr. Corletta J. Vaughn is the Senior Pastor of the Holy Ghost Cathedral of Faith and Apostle of Go Tell It Evangelistic Ministry, Worldwide, as well as an author and television personality. She has been a pioneer for women in ministry and was elevated to Bishop in Nigeria in 1995. She will now appear regularly on the "Preachers of Detroit" television show on the Oxygen Network. Her latest book, Teach Your Daughters To Fly, will be published in April 2015 by Next Century Publishing.