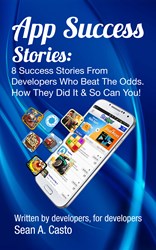 "One trait all these successful developers share in the book is their support of the PreApps solution, which assisted in providing these developers with early stage traction and exposure to position their apps for success
Boston, MA (PRWEB) December 11, 2013
Sean Casto, Founder and CEO of PreApps.com has announced the release of his newly published book "App Success Stories: From Developers Who Beat The Odds." Available on major publication retailers, including the i BookStore, Kindle and BarnesandNoble.com, the book is a blueprint for app developers, designers and entrepreneurs, wishing to achieve success in the highly competitive app marketplace.
"App Success Stories" takes the reader through a varied and broad set of success stories—from small, indie developers, to midsize app development firms. The book is a non-technical approach to the world of app development, from someone who's a veteran of the industry, and has seen both successes and failures first-hand.
The ultimate goal of the book is to give developers and designers the necessary insight to improve their chances for creating and releasing a best-selling app, amidst the thousands of other apps entering the market on a daily basis.
"I've seen so many developers come onto the scene with a great product, only to have it fail, so I started asking myself, what it truly is that sets one app apart from another," said Casto. "I wanted to create an attainable guide that really highlights what differentiates success from failure, and when I began researching for the book, what I found interesting was the vital role PreApps plays in this."
"One trait all these successful developers share in the book is their support of the PreApps solution, which assisted in providing these developers with early stage traction and exposure to position their apps for success," said Casto.
Included in the guide are little-known marketing strategies, the secrets that determine whether or not an app is a success or failure, pivotal insights from industry insiders and successful developers, and a mobile marketing checklist, created by a team of experts.
About PreApps.com:
With over 30,000 new apps introduced a month, PreApps.com is the leading platform introducing new mobile apps to users and the marketplace prior to release. Our vision is to build an ecosystem, which connects mobile app users with mobile app developers to in turn create better quality, more successful apps. By implementing user feedback in the development process, apps have a greater chance of success, and for users a more enjoyable experience.