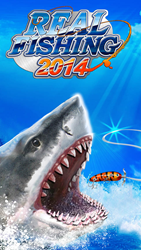 "We are very excited to be working with Glu Mobile on their newest launch of Real Fishing 2014," says Sean Casto, Founder & CEO
Boston, MA (PRWEB) April 29, 2014
The popular pre launch app discovery platform PreApps which successfully promotes the best new apps prior to release, is pleased to announce that Glu Mobile, the creators behind widely successful apps such as Call of Duty: World At War, Deer Hunter and RoboCop, have chosen to feature their latest creation, Real Fishing 2014, on PreApps.
"We are very excited to be working with Glu Mobile on their newest launch of Real Fishing 2014. We are confident that the app, which is expected to launch June 1st on iOS, will be huge within the gaming and sports community," says Sean Casto, Founder & CEO at PreApps.
With Real Fishing 2014, users can now experience all the adrenaline-pumping thrills of fishing right in the palm of their hand. This exciting new iOS app features hundreds of fish species for users to catch, from the Rare Anemone fish to the Scrawled filefish. In addition, the plethora of different fishing spots, from exotic tropical islands to frigid arctic oceans, makes this app an unbelievably attractive game. Real Fishing 2014 is also visually captivating, with graphics of an highly impressive standard. Furthermore, more than 200 items are available to choose from, such as different types of rods, lures and lines, to help users enhance their technique and land more fish.
With so many different options available and very unique and easy to use controls, it would be hard to believe there could be any room for disappointment for anyone who picks up this unbelievably attractive game. To get notified when the app gets released or to become a beta tester visit Real Fishing 2014 on PreApps.
About PreApps
PreApps.com is the leading platform introducing new mobile apps to users and the marketplace prior to release. Their interactive platform is enhancing the way apps are built and discovered by providing developers with the opportunity to generate critical user feedback, early exposure, traction and rapid downloads upon release. PreApps' mission is to fundamentally enhance the way app developers and users connect, communicate, and interact during the early launch stages of app development. Their collaborative process has demonstrated to position developers for success through an increase in app downloads, ranking, and overall quality.
About Glu Mobile
Glu Mobile is a leading publisher of mobile games for smartphones and tablet devices. Founded in San Francisco in 2001, Glu Mobile has since expanded to more than 4 countries. This successful company offers products to multiple platforms, including iOS, Android, Amazon, Windows Phone and Google Chrome. Glu Mobile has created many widely successful apps, among which are Call of Duty, Deer Hunter, Ice Age, Tom and Jerry, Transformers and Watchmen.