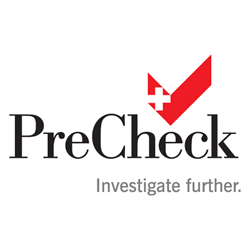 The OIG recommends that hospitals perform random drug tests on all healthcare workers with access to drugs. It's a very important patient safety issue.
Houston, TX (PRWEB) April 13, 2014
PreCheck, Inc., an employment and background screening firm specializing in the healthcare industry, recently announced it will host a live, complimentary webinar titled, "The Value of Random Drug Testing in the Prevalence of Prescription Drug Abuse", on Wednesday, May 7, 2014, from 1:00 p.m. to 2:00 p.m. Central Standard Time. The webinar will offer expert advice from Bill Current, Founder of WFC & Associates and Director of the Annual Survey of Drug Testing Industry Trends.
"Random drug testing is an emerging trend given the high rates of substance abuse among healthcare workers," explains Cristina Loayza, Product Manager for Drug Screening at PreCheck. "We are excited to have Bill Current share the latest statistics on prescription drug abuse and how employers can mitigate risk with an effective employment random drug testing program."
"I believe drug testing will soon become a key risk management tool for healthcare organizations," stated Bryan Barajas, Marketing Director at PreCheck. "Last month, the OIG published an OpEd article in the New York Times in which they recommend that hospitals perform random drug tests on all healthcare workers with access to drugs. It's a very important issue when it comes to patient safety and it's not going away."
The one-hour complimentary employment drug testing training session offers tips on how to implement an employment random drug testing program, an overview of state laws affecting random drug testing, the latest statistics on the illicit use of drugs in the United States, and more. For more information and to register for the free webinar, visit PreCheck's website.
About PreCheck, Inc.
Founded in 1983, PreCheck, Inc. has focused exclusively on serving the healthcare industry's background screening and employment qualification needs since 1993. PreCheck serves over 3,000 hospitals, long-term care facilities, clinics, educational institutions, and other ancillary healthcare organizations, across the U.S. PreCheck has evolved over time from a background screening provider into a turnkey outsourcing solutions provider, offering a full suite of background screening, compliance, and credentialing solutions all designed to help its clients adhere to the complex laws and regulations governing the healthcare industry. Based in Houston, PreCheck was recognized as a 2013 Inc. 5000 company and has achieved Background Screening Credentialing Council Accreditation by the National Association of Professional Background Screeners.