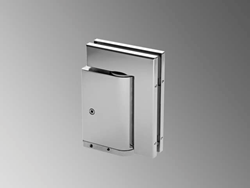 Precision Shower Doors, NJ's Leading Shower Manufacturer, Adds Patented Oil-Dynamic 'Soft Close' Non-Slam Hinges to The New Precision Touch Collection
Monmouth County, NJ (PRWEB) October 31, 2014
Few things are more nerve-wracking for a home owner than hearing their brand new frameless shower door slam closed as someone steps out of the shower. Precision Showers Doors in New Jersey offers a unique solution. The Precision Touch Collection features their patented Oil Dynamic "soft close" non-slam hinges. Each set has a 250 pound capacity, tested and proven to be the highest quality available in the industry. Providing the unique ability to set the rate of closure, they can prevent slamming that commonly occurs with standard spring loaded hinges. These Italian made hinges are available in Polished Chrome or Brushed Nickel finish. The Collection also features the best in glass (Precision Starphire Ultra-Clear 1/2" Glass paired with Precision Clarvista Anti-Stain Protection) arranged in a truly frameless design without channels. For more information, visit http://precisionshowerdoors.com/shower-doors-in-nj-ny-pa/soft-close-shower-doors-nj/.
"The Precision Touch collection is setting new standards of luxury in the shower door industry. Recognized as the perfect combination of function and style, it's a component that we have tested and proved to be worthy of including in our latest collection. Being one of the first companies to bring this technology to market is critical to continuing to deliver absolutely state-of-the-art products to our customers, just as we have for years." – Tom Basile, Founder, Precision Shower Doors
Precision Starphire Ultra-Clear Glass is truly clear, not green like standard glass, allowing the ½ inch glass to be stunningly clear even against a pure white backdrop of tile or marble. Precision Clarvista is a permanent anti-stain protection applied during the manufacturing process. It renders the glass non-porous, preventing staining from hard water and soap scum. Combined, these technologies give Precision's Frameless Shower Doors the most sparkling and stunning visual appeal available anywhere on the market today.
"Making sure that the hardware on your shower installation is as advanced as the glass and the designs is what sets Precision Shower Doors apart. Not only do we make sure the large details are taken care of, but make certain that even the smallest ones are given our undivided attention. We can confidently say that our shower installations will give you a lifetime of clear, stunning performance." – Tom Basile, Founder, Precision Shower Doors
What's The Precision Difference? They are the factory, not a reseller. Since 1984 they have continuously reengineered their product to include only the best technologies available. This precise design is a combination of glass thickness, optical clarity, anti-stain protection, and hardware quality, each absolutely imperative to produce a long lasting product we can confidently guarantee. Executing every design is a seasoned staff of craftsmen and professional installers with over 20 years of experience.
# # #
"If you would like more information about this topic, please contact Tom Basile at 732-389-8175 or email at info(at)precisionshowerdoors.com."