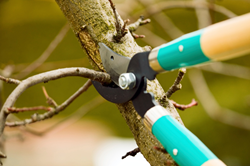 Improper pruning can severely damage trees and shrubs.
Mt. Vernon, WA (PRWEB) March 19, 2015
Homeowners and gardeners looking for some solid advice on how to get moving on spring pruning as our weather rapidly warms in the Pacific Northwest should take a look at the latest article from Precision Tree Service. Offering knowledgeable advice on what should and should not be pruned this spring season, they also give information on how improper or unseasonal pruning can damage your plants.
"Do not prune spring flowering trees or shrubs. If they haven't bloomed yet, you will likely snip off many of the flowers and drastically reduce the beauty of your tree," says the tree care experts. They explain that once trees have finished flowering, including those that flower in the summer months, the tree or shrub may be safely pruned without risk of removing buds.
The article moves on to talk about what definitely should be pruned in spring, such as deciduous plants, and broadleaf evergreens. While some of these may be pruned at other times of the year as well, pruning in spring while the tree is still dormant allows for easier and more effective pruning.
Need some pruning done in Skagit or Snohomish County? Contact Precision Tree Services for a free consultation: http://precisiontreeservicewa.com/contact/
About Precision Tree Service:
Precision Tree Services is a family-run business that expands throughout Whatcom and the Snohomish County area. They provide a full range of tree services, including tree removal, tree pruning, shrub and bush pruning, hedge trimming, stump grinding, crown reduction, crown raising, tree cabling, and more. All of our services are conducted by fully-trained tree experts or ISA certified arborists. Contact our office to schedule a tree service.
Precision Tree Service
14715 Smokey Point Blvd
Marysville, Washington 98271
888.277.2334