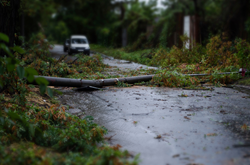 Winter windstorms will frequently damage trees, causing severed or cracked branches and trunk instability.
Everett, WA (PRWEB) December 20, 2014
"For those who greatly admire and appreciate the lovely trees on their property, we would urge you to make it a high priority to care for your trees during this windy time of year," says Precision Tree Service in their recently released article.
Precision Tree Service emphasizes that the first step to caring for your trees is first identifying what type of care they need.
A professional tree care service is able to assess your trees' condition and let you know what type of care the tree requires in order to keep it healthy and sturdy during the upcoming winter windstorms.
"While, yes, some tree-lovers are well versed in the art of tree pruning, an improper pruning job can cause serious harm to the tree itself," the article states. "Professionals know how to perform the necessary pruning to ensure that your trees are as strong as possible and can withstand the imminent gusty clime."
For more information about Precision Tree Services' offerings, visit: http://precisiontreeservicewa.com/tree-removal-service/
The article notes that, while most trees can be properly pruned to ensure their structural integrity, it's also possible that the tree is simply too damaged or old to prune properly. In some cases, homeowners actually don't realize the risk they're taking by trying to preserve a tree's existence when it actually poses a danger to their home and family.
"A professional arborist will be able to advise you regarding the health of your trees and whether or not they should be pruned or removed," says Precision Tree Service.
Their article concludes by featuring their current services discount of $100 off of their tree services. Homeowners should take advantage of these savings and prepare their trees for the blustery season ahead.
About Precision Tree Service:
Precision Tree Services is a family-run business that expands throughout Whatcom and the Snohomish County area. They provide a full range of tree services, including tree removal, tree pruning, shrub and bush pruning, hedge trimming, stump grinding, crown reduction, crown raising, tree cabling, and more. All of our services are conducted by fully-trained tree experts or ISA certified arborists. Contact our office to schedule a tree service.
Precision Tree Service
14715 Smokey Point Blvd
Marysville, Washington 98271
888.277.2334