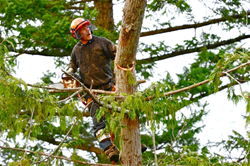 The key is to prevent damage from problematic or hazardous trees by trimming or removing them.
Everett, WA (PRWEB) October 23, 2014
"Winter storms are rapidly approaching us—but is your property ready for it?" asks Precision Tree Services in their newly released article about the importance of preparing your trees for the winter months.
Why is this necessary? Precision Tree Services explains that the wind storms, heavy rain, and occasional ice storms can cause a lot of damage to trees and property.
Trees that are unhealthy, dying, or already dead are far more likely to be susceptible to high winds and ice, and they may drop branches and limbs onto buildings, homes, vehicles, and even passersby. These trees can even fall over or split, creating widespread damage to the homeowner's property.
The key to preventing this damage is to have problematic or hazardous trees trimmed or removed from your property.
To learn about Precision Tree Services' tree trimming and tree removal services, follow this link to their website: http://precisiontreeservicewa.com/
"But how can you tell whether or not a tree is dangerously ready to drop a branch through your dining room window on the next gusty day, or if the whole structure is getting ready to collapse," the article inquires of homeowners. Precision Tree Services' article addresses that as well, giving homeowners a list of indications that a tree may not be ready for the winter weather.
Some examples are large areas of dead or browned leaves, cracks in the trunk that go deeper than the bark layer, widow-makers hanging in the branches, trees leaning too closely to buildings or other sensitive structures.
Precision Tree Service concludes their article saying, "We can provide you with information on the safety of the trees located around your property, as well as give you estimates for the cost of pruning or removing the trees that pose a threat."
About Precision Tree Services:
Precision Tree Services is a family-run business that expands throughout Whatcom and the Snohomish County area. They provide a full range of tree services, including tree removal, tree pruning, shrub and bush pruning, hedge trimming, stump grinding, crown reduction, crown raising, tree cabling, and more. All of our services are conducted by fully-trained tree experts or ISA certified arborists. Contact our office to schedule a tree service.
14715 Smokey Point Blvd
Marysville, Washington 98271
Phone: (888) 277-2334
Email: precisiontree@hotmail.com