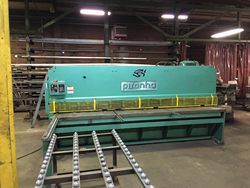 This is a great sale
Lexington, NC (PRWEB) August 03, 2016
Kyle Swicegood with The Swicegood Group, Inc. Auctions & Real Estate announced today the total liquidation of Precision Machine & Welding, Inc. located at 203 Prospect Street in Lexington, NC. This Auction will be using their proprietary online bidding platform of the Swicegood Group. Bidding is online only via http://www.ready2bid.com and will end August 18th, 2016 starting at 2 PM. Precision Machine & Welding, Inc, based in Lexington began in business in 1995. This company focused on building components for steel mills, components for the hydro electric industry, structural steel, air cooling and water cooling works and much more.
In May, 2016, David Zumpano, President, shareholder and machinist for the company, said, "it was a hard decision, but Alan (Alan Shrader, vice president of the company) and I decided it was time to retire. We have some great machines and equipment that have served our business well".
Swicegood said, "this is a great sale. We invite interested bidders to visit our website for registration". Auction Preview will be on August 13 & 17 from 10 AM – 1 PM. Becky Tarlton, Auction Manager said "we have everything from end mills, presses, broaches, saws, drill bits, cranes, tool boxes, tools, diesel engine, welders, plasma cutters, racks of steel, stainless and aluminum. We have over 1000 lots. This is a unique opportunity to name your price on well maintained equipment". The Swicegood Group, Inc. is a leader in the real estate & auction industry.  Licensed in multiple states, their team of brokers/auctioneers are recognized as some of the best in the industry.  We a combined experience level of over 50 years, their trademark is the idea of keeping up with the changing trends of the industry. The principles of the corporation are CCIM members, Certified Auctioneer Member graduates, Certified Residential Specialist and award winning talent. The goal of The Swicegood Group, Inc. Auctions and Real Estate Company is to develop relationships with people to further their power of choice and ability to create value in their investments.