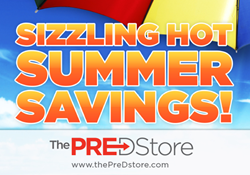 Austin, Texas (PRWEB) June 02, 2014
PreDiabetes Centers, a national provider of prediabetes testing and treatment, is rolling out a Sizzling Hot Summer Savings discount beginning June 1.
For a limited time only, online shoppers will receive $20 off orders of $100 or more–and also receive free shipping–on purchases at The PreD Store. The coupon code is SUMMER20. The offer expires July 15, 2014.
The PreD Store is an online healthy-living shop that specializes in dietary supplements and other healthy living products, including kitchen tools and fitness equipment.
The store's flagship product is a line of supplements called PreDiabetes Essentials, specialized nutraceuticals designed to help treat health conditions and deficiencies that are common in people with prediabetes.
People who feel they may be at risk for diabetes can take an online Diabetes Risk Survey, or call 1-855-399-7733 to schedule a complimentary blood test at a local PreDiabetes Center.
PreDiabetes Centers is a privately owned company based in Austin, Texas, that specializes in the prevention and treatment of diabetes. Treatment at the Center is customized for each client and is based on physician-directed care and lifestyle intervention. The company offers free biomarker blood testing that can detect prediabetes, and also continuing biomarker tests throughout the personalized program to ensure that metabolic processes in the body related to prediabetes are being reversed.