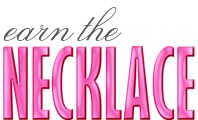 While the idea of having a sugar daddy can be exciting, the world of online age gap dating is ripe for deception, so potential sugar babies need to be cautious.
New York, NY (PRWEB) October 17, 2013
Earn the Necklace (EarnTheNecklace.com), a revealing and engaging web site with articles written by women who exchange their stories and confessions about being in a relationship with a much older man, is warning sugar babies to be cautious of being scammed by sugar daddies on online dating sites after one unsuspecting woman was recently bilked out of almost $5,000.
A Nebraska woman searching the Internet for a sugar daddy found out recently that she was scammed out of nearly $5,000 after a fraudulent check bounced. The 20-year old woman, after meeting a man on a sugar daddy dating site, received a check from him in the mail for $4,980. She cashed it, as per his instructions, and transferred the money to two other men. Shortly thereafter, the bank informed the woman that the check was fraudulent and that $4,980 had been seized from her account to cover the loss. (Source: Cole, K., "Search for 'sugar daddy' costs Omaha woman $5K in check scam," Omaha.com, October 2, 2013; http://www.omaha.com/article/20131002/NEWS/131009736/1685.)
"While the idea of having a sugar daddy can be exciting, the world of online age gap dating is ripe for deception, so potential sugar babies need to be cautious," says Riya Beaumont, EarnTheNecklace.com's content editor. "Even if it is on a site dedicated to the sugar daddy/sugar baby relationship, if his online dating profile seems too good to be true, it probably is."
According to a study conducted by the University of Wisconsin-Madison and Cornell University, 80% of online daters misrepresent who they are. More than 50% lied about their height, nearly one third lied about their age, and men embellish their salaries by 20%. On top of that, 42% of men falsified their job title. (Source: The Truth about Lying in Online Dating Profiles," Academia.edu, April 2007; http://www.academia.edu/762681/The_truth_about_lying_in_online_dating_profiles.)
"Potential sugar babies can probably increase that salary embellishment significantly when it comes to web sites primarily concerned with income. After all, men want to impress, and those so-called sugar daddies that want to financially scam sugar babies will try that much harder," Beaumont adds. "That said, there are a number of steps sugar babies can take to protect themselves from online predators pretending to be sugar daddies."
If a sugar baby receives a check, Beaumont says, she should wait for the bank to verify that there are sufficient funds in the account to cover the amount. Just because a bank provides funds doesn't mean the check has cleared, and it is virtually impossible to retrieve money transferred or wired to another account.
"Fake check scam artists are always on the lookout for victims, and unfortunately, web sites geared toward women looking to date wealthy older men are a perfect avenue," Beaumont concludes. "If someone wants to pay for something, a sugar baby should insist it be a cashier's check for the exact amount; preferably from a local bank. That way the money is guaranteed."
To learn more about Earn the Necklace, visit the web site at http://www.EarnTheNecklace.com. The site wants to hear from women dating or married to men 20 years or more their senior! And if it's a story they publish, they'll pay $500.00, with an opportunity to write more.
About the Web Site: Earn the Necklace (EarnTheNecklace.com) is a web site featuring stories written by women in relationships with much older men and who want to help other women in the same situation. The site helps women in this position understand and navigate the potential ups, downs, joys, trials, and even unforeseen consequences, all based on real-life stories from women who have been in the same situation. Plus, the web site offers other celebrity gossip and juicy stories, all geared to those who are in a relationship with a much older man.