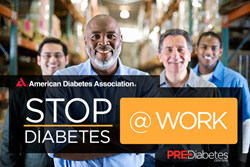 For every 500 employees, 55 will be diabetic and 150 will be prediabetic.
Austin, Texas (PRWEB) June 30, 2014
PreDiabetes Centers, a national provider of prediabetes testing and treatment, has partnered with the American Diabetes Association (ADA) in the Stop Diabetes @ Work program, an initiative that promotes diabetes awareness, detection, prevention, and successful management of diabetes. PreDiabetes Centers is proud to join the ADA in the movement to stop the diabetes epidemic, and is committed to promoting good metabolic health in the workplace.
Developing innovative detection and treatment for diabetes is a shared mission of both the ADA and PreDiabetes Centers. The Stop Diabetes @ Work initiative aims to educate companies about the benefits of diabetes prevention and treatment. PreDiabetes Centers provides a clinical solution to this objective with state-of-the-art biomarker screening and a comprehensive traditional and lifestyle treatment program.
Headquartered in Austin, Texas, PreDiabetes Centers specializes in the testing and treatment of prediabetes, the earliest stage of type 2 diabetes. Early treatment of the disease allows people to reverse the onset of type 2 diabetes and avoid the development of diabetes-related conditions, including heart disease, stroke, and kidney failure.
As the Title Sponsor for the ADA's Stop Diabetes @ Work initiative, PreDiabetes Centers will work with companies toward helping employees learn their risk for type 2 diabetes, utilizing Diabetes Risk Assessments and advanced blood screening. For employees who have prediabetes or early-stage diabetes, PreDiabetes Centers will offer customized treatment that can be folded into a corporate wellness program or offered as a stand-alone healthy employee initiative.
At an ADA Corporate Wellness Breakfast on June 25th in Austin, PreDiabetes Centers Medical Director Alan Hopkins, MD, participated in a panel discussion and explained to the audience that diabetes can affect an employee's morale, productivity, and attendance, and raises medical costs for both the employee and the company.
"People with diabetes have medical expenditures approximately 2.3 times higher than those without diabetes," said Dr. Hopkins, who treats patients at the PreDiabetes Center of Austin.
He also highlighted the prevalence of diabetes in the workforce to the event's attendees.
"For every 500 employees, 55 will be diabetic and 150 will be prediabetic," said Dr. Hopkins. Many people with diabetes and prediabetes are unaware of their condition until it progresses to dangerous levels, he noted. Helping employees learn where they stand on the path to diabetes status may enable them to treat the disease while it's still reversible.
Dr. Hopkins encouraged companies to promote employee health and well-being, and provide support and resources to at-risk employees so that they're able to better manage prediabetes and avoid the long-term consequences of diabetes.
Using proven clinical practices and evidence-based research, the PreDiabetes Centers treats patients in an intensive 12-month program that implements guidelines endorsed by the American Diabetes Association, the International Diabetes Federation, the American Society of Endocrinologists, and the Centers for Disease Control and Prevention.
To help the public learn if they are at risk for diabetes, PreDiabetes Centers offers a free advanced blood test that examines many in-depth biomarkers, or chemicals and proteins in the blood, that can indicate the presence of prediabetes.