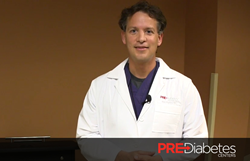 If you drink coffee that has a lot of additives to it, in terms of sugar, carbohydrates… that's likely to increase your risk for type 2 diabetes.
Houston, Texas (PRWEB) June 16, 2014
Alan Hopkins, MD, medical director at PreDiabetes Centers, a national company dedicated to the treatment of prediabetes, appeared on Houston's "NewFix" newscast on KIAH-TV channel 39 recently to discuss the association between coffee drinking and diabetes risk.
Dr. Hopkins was asked to explain how increased consumption of coffee may help reduce diabetes risk, and whether any type of coffee is associated with a lower risk.
"In this particular study, they looked at black coffee showing some benefit [in reducing diabetes risk]," said Dr. Hopkins about a recent Harvard School of Public Health report which found that compounds in coffee called lignans can improve glucose metabolism and lower risk of developing diabetes.
According to the research, published in the journal Diabetologia, people who increased the amount of coffee they drank each day by more than one cup over a four-year period had an 11% lower risk for type 2 diabetes than those who made no changes to their coffee regimen. Additionally, the study found that people who reduced their coffee consumption by more than a cup a day saw a 17% rise in diabetes risk.
In the interview, Dr. Hopkins was quick to clarify that not just any cup of Joe can help reduce risk for diabetes.
"If you drink coffee that has a lot of additives to it, in terms of sugar, carbohydrates… that's likely to increase your risk for type 2 diabetes," said Dr. Hopkins.
A diet that is high in cholesterol, unhealthy fats and sugar, and deficient in critical nutrients is one of many factors that can contribute to a prediabetes and diabetes diagnosis.
Dr. Hopkins recommends that people avoid coffee that is packed with sugar, fat and calories, and instead consume black coffee with soy or almond milk, as well as fresh vegetable juice and plenty of water.
Dr. Hopkins is a Medical Director at PreDiabetes Centers, where he manages care for patients in an intensive, 12-month program that reverses prediabetes, a condition that occurs when blood sugar levels are high but not yet high enough for a diabetes diagnosis.
Dr. Hopkins and his prediabetes health team use advanced blood testing, nutraceutical support, exercise physiology and nutrition to design a customized clinical program for each client.
Dr. Hopkins earned his Doctor of Medicine from Loma Linda University School of Medicine. He is a distinguished physician and recipient of a Top Doctor 2013 award. He has been a physician in Austin since 1999, serving as a Clinical Professor at University Medical Center at Brackenridge Hospital and Dell Children's Hospital. He has taught and instructed physicians internationally and has volunteered in overseas hospitals and clinics.
KIAH-TV is a CW-affiliated television station in Houston. "Newsfix" is an anchorless broadcast that features general interest news stories. Watch the interview here.