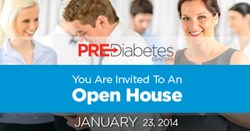 Houston, TX (PRWEB) January 17, 2014
The PreDiabetes Center of Southwest Houston will hold a Health and Wellness Open House on Thursday, January 23 for PreDiabetes Centers clients and any person interested in learning more about prediabetes treatment.
Attendees can meet prediabetes physician Dr. Afreen Pappa and her health staff, ask questions about treatment, get information on prediabetes nutrition and exercise, learn about supplements, and much more. PreDiabetes Centers clients are encouraged to bring friends and family who are looking for prediabetes treatment options and ways to prevent the onset of diabetes.
Refreshments and a light lunch will be served. Event-goers also have the chance of winning prizes in the Open House raffle.
The Health and Wellness Open House will take place from 11am to 1pm at the PreDiabetes Center of Southwest Houston(inside JAVANI Center for Wellness), located at 12603 Southwest Freeway, Suite 600 in Stafford. The event is free and open to the public.
All attendees should RSVP to Kristina at (832) 491-3684.
Dr. Pappa and her prediabetes health team treat clients who have prediabetes, the condition that occurs before a type 2 diabetes diagnosis. Using the latest breakthroughs in medicine, nutritional supplementation, prediabetes diet planning, customized fitness and hormone therapy, the 12-month treatment program can reverse a client's progression to diabetes and helps him or her achieve overall good health.