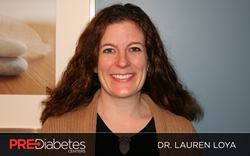 Pittsburgh, PA (PRWEB) May 13, 2014
PreDiabetes Centers Medical Director Dr. Lauren Loya will discuss the epidemic of prediabetes on "Pittsburgh Living" on Friday, May 23 at the 9 a.m. news hour. Dr. Loya leads a specialized team at the PreDiabetes Center of Pittsburgh and provides personalized treatment to clients with prediabetes, the condition that occurs up to 10 years before a diabetes diagnosis.
Prediabetes is a leading health epidemic that affects more than 79 million Americans, many of whom are unaware they have the condition.
Dr. Loya and her health team prevent the onset of diabetes by treating prediabetes aggressively with integrated treatment. They use state-of-the-art body monitoring, hormone therapy, health coaching, pharmaceuticals, nutritional supplementation, personalized fitness, and an advanced prediabetes nutrition plan to reverse the condition in people with prediabetes and early-stage diabetes.
Dr. Loya is a top Pittsburgh-area physician who specializes in hormone optimization and chronic disease. She graduated from Northwestern University Medical School and completed her residency at the University of Illinois, Chicago, where she served as Chief Resident and Assistant Residency Director. She has served on the faculty of the University of Pittsburgh Medical Center Family Practice Residency Program and founded her own medical practice in 2007.
Dr. Loya meets with patients at the PreDiabetes Center of Pittsburgh at 2541 East Carson Street.
"Pittsburgh Living" airs quarterly from 9:00-10a.m. on KDKA-TV, channel 2, a CBS-owned regional news channel.
People who feel they may be at risk for prediabetes can receive a complimentary diabetes test by calling 1-855-399-7733 (PRED), or by visiting http://www.schedulemydiabetestest.com. The advanced test measures fasting blood sugar and hemoglobin A1c–the standard health markers used in a diabetes diagnosis–but also several other key biomarkers that play a role in metabolic health, including homocysteine, C-reactive protein, C-peptide, insulin, HOMA-IR, testosterone, and more.