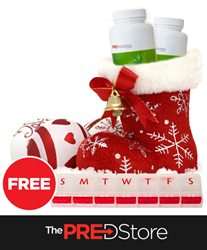 Austin, Texas (PRWEB) December 08, 2014
To promote the practice of healthy living, PreDiabetes Centers, the groundbreaking leader in prediabetes treatment, is giving away 7-day pill dispensers to shoppers of The PreD Store, the Company's healthy living shop.
The pill box, valued at $7.99, is a complimentary gift to shoppers who spend $50 or more on their orders until December 31st.
This easy-to-use weekly pill dispenser will remind PreDiabetes Centers clients to take their daily supplements, which is an important part of an overall health and wellness plan. And it's especially important in the treatment of prediabetes.
The pill box can ensure that supplements and medications are taken correctly, and is especially useful for people who forget to take their supplements or find it inconvenient to do so. The pill box's portability makes it even more convenient, enabling clients to take their daily supplements at home, at work and on the go.
The pill dispenser's compartments are large enough to hold several daily supplements–a must-have feature for people who take numerous health-boosting multi-vitamins a day. One of the best features of the pill box is the locking mechanism which stops supplements from spilling out. When the pill box-user is ready for their daily dose of supplements, he or she simply presses down on the colored tab and the lid pops open!
The pill box also features a rounded scoop-bottom for easy pill removal and a non-skid bottom, which keeps the pill box in place when sitting on a surface.
Shoppers can snag a free pill dispenser while stocking up on supplements at The PreD Store!
The PreD Store's flagship product is PreDiabetes Essentials, a line of nutritional supplements that restore nutrient gaps that healthy eating alone can't always replenish, and can help ward off deficiencies that contribute to diabetes.
Products sold in The PreD Store are intended to be added to a healthful, nutrient-rich diabetes prevention plan. Products should be used in combination with a physician-directed prediabetes treatment plan and cannot take the place of comprehensive medical care.
People who feel they may be at risk for diabetes can take an online Diabetes Risk Survey, or call 1-855-399-7733 to schedule a complimentary blood test at a local PreDiabetes Center.