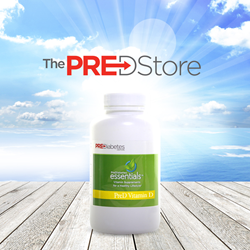 Austin, TX (PRWEB) July 31, 2014
PreDiabetes Centers, a rapidly growing company that specializes in prediabetes and early-stage type 2 diabetes treatment, is offering PreD Store shoppers a free bottle of PreDiabetes Essentials Vitamin D with any order of supplements totaling $50 or more in the month of August.
Known as the "sunshine vitamin," vitamin D is an essential nutrient that boosts immune health and helps the body absorb calcium for bone health. Vitamin D may even help prevent or improve depression, according to research. Low levels of vitamin D are linked to the development of many serious diseases, including certain types of cancer, diabetes and asthma.
Vitamin D can be obtained in one of three ways: Absorbed by the body through the sun's ultraviolet rays, consumed in the diet, or taken in the form of dietary supplements.
While it may seem contrary to take vitamin D supplements during summer–when the sun's rays are plentiful–it's actually a health-smart practice. Even after exposing the skin to the sun's rays (experts recommend 20 minutes a day), many people won't reap the sun's vitamin D-production benefits because conditions aren't optimal.
Some people live in locations when the sun isn't strong enough to stoke vitamin D production. Additionally, many people wear sunscreen, which inhibits the boy's production of vitamin D. And others are simply unable to efficiently convert sunshine to vitamin D in the body.
Supplements, however, ensure the body is adequately absorbing and building up stores of vitamin D!
What about dietary sources of vitamin D?
Food may seem like an ideal way to get vitamin D, but here's the problem: Vitamin D is not a natural nutrient in most foods. Many foods are enriched with vitamin D, including cereal and dairy products, but only because the original food has been stripped of its nutrients during processing. (The best natural source of vitamin D is fatty fish, such as salmon, mackerel and tuna.)
Again, that's where supplements come in!
Vitamin D supplements ensure the body is getting the nutrients it needs– especially for people who are worried about harmful UV rays or those who can't get enough of it in their diet.
In addition to receiving a free bottle of PreD Vitamin D with any $50 purchase, PreD Store shoppers will also receive free shipping. The coupon code is VITAD. The offer expires August 31, 2014.
The PreD Store sells supplements designed to help treat health conditions and deficiencies that are common in people with prediabetes. Boosting the body's store of vitamins and minerals can prevent poor nutrition and help enhance a person's metabolic health and aids in reversing the progression to diabetes.
More than 86 million Americans have prediabetes, but just 7% of sufferers are aware of their condition, according to the Centers for Disease Control and Prevention.
People who feel they may be at risk for diabetes can take an online Diabetes Risk Survey, or call 1-855-399-7733 to schedule a complimentary blood test at a local PreDiabetes Center.