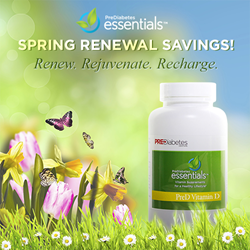 Austin, Texas (PRWEB) February 28, 2014
PreDiabetes Centers, the country's leading authority on prediabetes testing and treatment, is excited to offer web shoppers a Spring Savings discount of $20 beginning March 1.
For a limited time only, online shoppers will receive $20 off orders more than $100–and also receive free shipping–on purchases at The PreD Store. The coupon code is SPRING20. The offer expires April 15, 2014.
The discount is intended to encourage shoppers to renew and revitalize their health habits–lifestyle practices that are symbolic of spring's themes of renewal and rebirth.
The PreD Store is an online healthy-living shop that specializes in dietary supplements and other healthy living products, including kitchen tools and fitness equipment.
The store's flagship product is a line of supplements called PreDiabetes Essentials. Featuring the supplements PreD Cardio Support, PreD Glucose Support and more, PreDiabetes Essentials is designed to help treat health conditions and deficiencies that are common in people with prediabetes. Boosting the body's store of vitamins and minerals can prevent poor nutrition and help enhance a person's overall health.
In addition to nourishing the body with supplements, PreDiabetes Centers has developed a health-promoting, prediabetes-friendly diet and works with clients on every aspect of diet, from nutrition education and grocery shopping to meal planning and food preparation. The Company even gives clients more than 120 recipes specially created by the PreDiabetes Concierge Chef.
More than 79 million Americans have prediabetes, but just 7% of sufferers are aware of their condition, according to the Centers for Disease Control and Prevention. Prediabetes is the condition that occurs when blood sugar levels are higher than normal but not yet high enough for a diabetes diagnosis.
People who feel they may be at risk for diabetes can take an online Diabetes Risk Survey, or call 1-855-399-7733 to schedule a complimentary blood test at a local PreDiabetes Center.
PreDiabetes Centers is a privately owned company based in Austin, Texas, that specializes in the prevention and treatment of diabetes. Treatment at the Center is customized for each client and is based on physician-directed care and lifestyle intervention. The company offers free biomarker blood testing that can detect prediabetes, and also continuing biomarker tests throughout the personalized program to ensure that metabolic processes in the body related to prediabetes are being reversed.