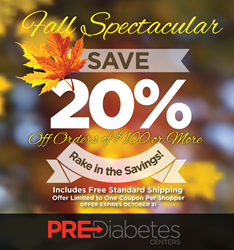 Austin, TX (PRWEB) August 29, 2014
PreDiabetes Centers, the country's leading prediabetes treatment company, is kicking off the fall season by offering Web shoppers a 20% discount off orders of $100 or more at The PreD Store, the Company's online healthy living shop, beginning September 1.
Keeping your body in optimum health should be top priority when heading into the chilly fall season.
Autumn's cooler, cozier weather often invites a changing lifestyle habits. During this season, people usually ditch the healthy salads and opt for creamy soups, hearty casseroles and other comfort foods that aren't ideal for people on a healthy diet, including a prediabetes diet. Also, as schedules get busier, people tend to pull back on exercise regimens and become more susceptible to stress, especially as they prepare for the holidays. That's why it's crucial that you protect your health with a surge of nutrition!
Replenishing stores of vitamins and minerals can aid in disease prevention and treatment and ensure that your body has the nutrients it needs to stay healthy. Nutritional supplements are a key part of your well-being: They help boost heart health, immune health and energy, and restore nutrient levels.
To kick off the The PreD Store Fall Savings Event, PreDiabetes Centers is offering online shoppers a 20% discount on orders of $100 or more. Plus, shoppers enjoy free shipping on orders over $50. Check out the Fall Savings Event at the PreD Store!
People who feel they may be at risk for diabetes can take an online Diabetes Risk Survey, or call 1-855-399-7733 to schedule a complimentary blood test at a local PreDiabetes Center.
PreDiabetes Centers specializes in comprehensive, physician-directed treatment of prediabetes, the earliest stage of diabetes. All clients receive personalized treatment and holistic lifestyle guidance, which includes an advanced dietary plan, nutritional supplements, health coaching, customized fitness, and sleep and stress therapy.