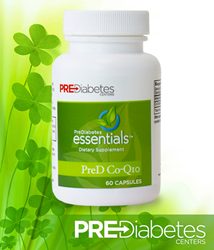 Austin, Texas (PRWEB) March 13, 2015
PreDiabetes Centers, a proud partner of the American Diabetes Association and the nation's top provider of advanced prediabetes screening and treatment, is offering a discount on coenzyme q10 supplements to encourage supplement-takers and clients to store up on disease-fighting antioxidants.
PreDiabetes Centers is offering PreD Store shoppers 25% off PreD Co-Q10, a natural, powerful antioxidant that may help boost heart health, control blood sugar control and help manage high blood pressure.
Coenzyme Q10 is a compound that occurs naturally within the cells of the human body, and it is necessary for proper functioning of the body's cells. Research has shown that supplementing with coenzyme Q10 may also enhance immune system function, protect organs from toxic chemotherapy drugs in cancer treatment, and aid in the treatment of migraine headaches.
Coenzyme Q10 levels tend to decrease with age and may be low in people with diabetes and heart conditions. PreD Co-Q10 is especially ideal for people taking lipid-lowering medications.
Online shoppers can redeem the discount on PreD Co-Q10 by entering the coupon code MARCH25 at checkout. The offer expires March 31.
All products sold in The PreD Store are intended to be added to a healthful, nutrient-rich diabetes prevention plan. Products should be used in combination with a physician-directed prediabetes treatment plan and cannot take the place of comprehensive medical care.
People who feel they may be at risk for diabetes can take an online Diabetes Risk Survey, or call 1-855-399-7733 to schedule a complimentary blood test at a local PreDiabetes Center.
The PreDiabetes Centers advanced blood test examines many in-depth biomarkers, or chemicals and proteins in the blood, that can indicate the presence of prediabetes. The health markers screened in the complimentary test include blood glucose, hemoglobin A1c, insulin, cholesterol, and HOMA-IR (a calculation of insulin resistance). It's the most comprehensive prediabetes screening available to the public, and it's free.