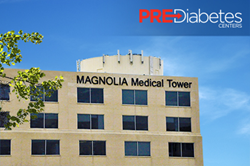 Fort Worth, TX (PRWEB) February 25, 2014
PreDiabetes Centers, a fast-growing national prediabetes treatment company, is moving to a new location in Fort Worth to better serve its expanding client base.
Beginning March 3rd, clients of the PreDiabetes Center of Fort Worth will meet with their prediabetes care team at the new office, located at 1307 8th Avenue, Suite 502, Fort Worth, TX 76104. The Center's telephone number is still (816) 380-9126.
A detailed map and directions to the new PreDiabetes Center of Fort Worth can be found on the PreDiabetes Centers website.
At the PreDiabetes Center of Fort Worth, clients will continue to receive personalized, integrated treatment from Dr. Boulden and the rest of the prediabetes health team. Dr. Boulden oversees a 12-month treatment program that stops the progression to diabetes using a combination of techniques. Cutting-edge biomarker testing allows the health team to identify metabolic imbalances associated with diabetes, and treatment is centered on targeted medicine, nutritional supplementation, diet planning, customized fitness and hormone therapy, all of which restore metabolic function, treat diabetes-related conditions and promote overall health.
Dr. Boulden has many years of experience in integrative and functional medicine. A graduate of the University of New Mexico School of Medicine in Albuquerque, she has lectured on chronic disease and has made numerous appearances on television broadcasts. She believes that treating prediabetes before it develops into type 2 diabetes is critical. "Integrated treatment is the key to stopping a disease," said Dr. Boulden. "It's taking care of all of the elements that is prediabetes."
Prediabetes, the condition that occurs up to 10 years before a diabetes diagnosis, is a serious, chronic disease in which the body grows resistant to insulin, blood sugar levels rise and overall health deteriorates.
People who are concerned about their health can take the 2014 Diabetes Risk Survey–a score-based assessment that calculates a person's individual risk factors for type 2 diabetes. Health-seekers can also schedule a free blood screening on the PreDiabetes Center website. [links]
PreDiabetes Centers is a privately owned company based in Austin, Texas, dedicated to the prevention and treatment of diabetes. The company offers a complimentary biomarker-based blood screening that can detect prediabetes, and also continuing biomarker tests throughout the personalized program to monitor specific processes in the body associated with prediabetic conditions.
Connect with PreDiabetes Centers on the PreD blog.