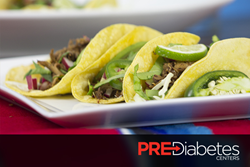 Austin, TX (PRWEB) May 05, 2014
PreDiabetes Centers, the nation's top provider of prediabetes treatment, unveiled nutritious and savory recipes for clients in celebration of Cinco de Mayo, the Mexican holiday observed on May 5. PreDiabetes Concierge Chef Han Ashley developed two new healthy recipes: Chicken Posole Tacos and Bloody Maria Fresh Juice and Cocktail, both of which are available on the Company's website.
PreDiabetes Centers specializes in the treatment of prediabetes using cutting-edge body monitoring, health coaching, nutritional supplements, personalized fitness, and an advanced dietary plan to stop the onset of diabetes. Teaching prediabetics how to eat unprocessed, whole foods and cook nutrient-rich meals is a key part of an overall prediabetes treatment plan.
The delicious Chicken Posole Tacos feature dried ancho chiles, fresh herbs, a smoky chicken flavor and healthy whole grain tortillas. The Bloody Maria Fresh Juice and Cocktail brims with a medley of zesty vegetables–including tomatoes, carrots, celery, cucumber, and bell pepper–and can be consumed as a non-alcoholic beverage. If consuming the alcoholic version, the American Diabetes Association recommends that women have no more than one alcoholic drink per day and men have no more than two per day.
In addition to having access to recipes on the website, clients who are enrolled in the 12-month prediabetes treatment program receive more than 250 custom-created prediabetes recipes designed by Concierge Chef Ashley, who hosts nutritional seminars for clients and works with the clinical team in ongoing nutritional program development efforts. Ashley learned the principles of vegetarian and vegan cooking at the Weimar Center of Health and Education in Weimar, Calif., and received a graduate degree in Cardiopulmonary Sciences from Loma Linda University in Loma Linda, Calif.
PreDiabetes Centers aims to draw awareness to the growing epidemic of prediabetes, which affects more than 79 million Americans. Reversing diabetes while it's still in the early, reversible stage of the disease–the prediabetic stage-can help a person avoid devastating, lifelong health complications, such as heart problems, nerve damage and kidney damage.
Those who feel they may be at risk for prediabetes can book a free blood screening by calling 1-855-399-7733 (PRED). For greater convenience, people also have the option of scheduling online.
PreDiabetes Centers is a privately owned company based in Austin, Texas, dedicated to the prevention and treatment of diabetes. Treatment at the Center is based on physician-directed care and lifestyle intervention tailored for each client. The company offers a 12-month personalized program that treats prediabetes and its associated conditions, and uses advanced biomarker testing to monitor specific processes in the body associated with prediabetic conditions.