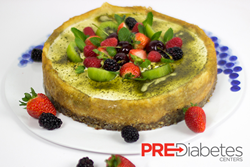 [Many "healthy"] desserts don't conscientiously use nutrient-dense food. They're usually high in fat and simple starches, which don't help with blood sugar regulation.
Austin, TX (PRWEB) February 27, 2014
PreDiabetes Centers, the nation's top purveyor of prediabetes treatment, rolled out 10 new prediabetes recipes - available on its website - that are healthy, scrumptious and easy to prepare. The Company aims to teach prediabetics how to cook nutrient-rich food, a skill that plays a pivotal role in an overall diabetes prevention plan.
Teeming with whole grains, fiber and vegetables, the Company's prediabetes-friendly recipes are sure to satisfy every craving, from indulgently sweet to hearty and comforting.
The new dishes include a succulent Louisiana Gumbo, Thai Coconut-Peanut Sauce with Noodles and Vegetables, Pimento Cheese Dip and a healthier Fried Chicken and Waffles, in which the chicken is pan-fried instead of deep-fried.
"I was excited to create the Fried Chicken and Waffles recipe because my daughter loves them!" said PreDiabetes Centers Concierge Chef Han Ashley, who designs all recipes for the Company. "It's a Southern favorite, but this version is healthier because it uses quinoa flour instead of white flour. Quinoa has 9 grams of protein per serving and is high in manganese and magnesium, which can help relax the blood vessels."
Hardening and narrowing of the arteries (atherosclerosis) is a related complication of prediabetes and diabetes.
Ashley hosts nutritional seminars for clients enrolled in the PreDiabetes Centers 12-month treatment program, which stops a client's progression to diabetes using integrated medicine, specialized dietary planning, customized fitness, hormone optimization and other targeted treatment techniques.
Another recipe unveiled in the new recipe collection is White Chocolate-Green Tea-Mint Cheesecake–a combination of flavors that is surprising and delectable!
Ashley has spent a great deal of time concocting healthier cheesecake recipes. Using cheese, butter and sour cream substitutes as well as reduced amounts of sugar, Ashley has created several healthy, guilt-free cheesecake recipes for PreDiabetes Centers clients.
"A lot of people who don't eat dessert would love the [White Chocolate-Green Tea-Mint] cheesecake. It mimics real cheesecake very closely, plus it's loaded with protein and fiber," Ashley said.
She explained that most healthy desserts aren't very sophisticated. "They're grainy and dense in texture because they're high in fiber," Ashley said, which can turn people off. That's why she takes special care when it comes to creating healthy dessert recipes.
Ashley believes it's easy to be misled by vegan desserts–which are considered "healthy" because they lack animal byproducts and use food substitutes. Here's the problem: "These desserts don't conscientiously use nutrient-dense food. They're usually high in fat and simple starches, which don't help with blood sugar regulation," said Ashley.
Ashley's dessert recipes, in comparison, rely on vegetables or a form of protein to add nutrients to the dish–making it ideal for people with prediabetes, or anyone seeking better nutritional health.
To browse the collection of prediabetes recipes–including new recipes for Japanese Ramen, Italian Cioppino, Chicken Tortilla Soup, Indian Green Masala Dip and Chocolate Fondue–click here.
People who feel they may be at risk for diabetes can take the 2014 Diabetes Risk Survey or sign up for a complimentary blood test at a PreDiabetes Center on the Company's website.
PreDiabetes Centers is a privately owned company based in Austin, Texas, that specializes in the prevention and treatment of diabetes. Treatment at the Center is customized for each client and is based on physician-directed care and lifestyle intervention. The company offers free biomarker blood testing that can detect prediabetes, and also continuing biomarker tests throughout the personalized program to ensure that metabolic processes in the body related to prediabetes are being reversed.