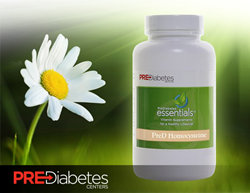 Austin, Texas (PRWEB) April 02, 2015
PreDiabetes Centers, the country's top provider of advanced prediabetes screening and treatment, is offering PreD Store shoppers a 30% discount on homocysteine-lowering supplements.
Managing homocysteine levels is critical: Elevated homocysteine levels may increase risk of cardiac or other vascular diseases such as stroke and peripheral vascular disease, both of which are potential complications of prediabetes or diabetes.
PreD Homocysteine Support promotes cardiovascular support and contains riboflavin, vitamins B6 and B12, and other health-boosting nutrients. It is recommended for people who have persistently elevated homocysteine levels.
Online shoppers can redeem the discount on PreD Homocysteine Support by entering the coupon code SPRING30 at checkout. The offer expires April 30.
All products sold in The PreD Store are intended to be added to a healthful, nutrient-rich diabetes prevention plan. Products should be used in combination with a physician-directed prediabetes treatment plan and cannot take the place of comprehensive medical care.
People who feel they may be at risk for diabetes can take an online Diabetes Risk Survey, or call 1-855-399-7733 to schedule a complimentary blood test at a local PreDiabetes Center.