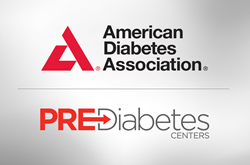 Houston, TX (PRWEB) July 14, 2014
PreDiabetes Centers, a rapidly growing national provider of prediabetes and early-stage type 2 diabetes treatment, will exhibit at the American Diabetes Association (ADA) EXPO 2014 in Houston on Saturday, July 26.
The event will be held at the NRG Center (formerly known as Reliant Center), located at 8400 Kirby Drive, from 9:00 a.m. to 3:00 p.m. Admission is free.
The ADA Diabetes EXPO, hosted in numerous cities across the U.S. every year, brings together hundreds of exhibitors and thousands of attendees in efforts to educate and inform diabetics of the latest products and resources available in diabetes management. The ADA EXPO includes educational sessions, healthy cooking demonstrations, and demonstrations of the latest technologies and treatment in the management of diabetes.
PreDiabetes Centers is excited to offer free hemoglobin A1c blood screening to attendees concerned about their risk for prediabetes or diabetes. Event goers are encouraged to speak with a PreDiabetes Centers registered nurse Health Coach and receive a Diabetes Risk Assessment. Family members of type 2 diabetics, in particular, should visit the PreDiabetes Centers booth to receive testing, since type 2 diabetes runs in families due to genetics and shared lifestyle risk factors.
PreDiabetes Centers Medical Director Alan Hopkins, MD, will speak to attendees in an educational seminar from 11:30 to noon at the EXPO's Education Stage. Dr. Hopkins, who oversees comprehensive care for patients in the Company's 12-month treatment program, will discuss the increased risk for prediabetes among family members and friends of type 2 diabetics.
People who are unable to attend the event can sign up for a screening at a local PreDiabetes Center on the Company's website.
PreDiabetes Centers specializes in the treatment of prediabetes using advanced, continuing biomarker blood tests to ensure that metabolic processes in the body related to prediabetes are being reversed. Treatment plans are customized for each client and based on physician-directed medical care and lifestyle intervention.