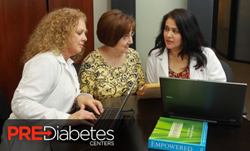 We know that education is a huge component in a person's ability to improve their health.
(PRWEB) July 30, 2014
PreDiabetes Centers, the nation's leading prediabetes treatment company, is featured in a new article about the devastating epidemic of prediabetes, published in the Houston Chronicle newspaper. Dr. Afreen Pappa, who leads the PreDiabetes Center of Southwest Houston, and client Betty Neve were interviewed in the article, called "Taking Steps to Reduce Risk of Prediabetes."
"I was a bit shocked and very concerned to hear I was prediabetic," said Neve, who is one of the 86 million Americans with prediabetes, according to the latest report by the Centers for Disease Control and Prevention (CDC).
After the results of an advanced blood test showed that she had prediabetes–the earliest stage of diabetes that occurs when blood sugar levels are higher than normal but not yet high enough for a type 2 diabetes diagnosis-Neve was determined to take charge of her health and stop the development of diabetes.
"Diabetes is scary," she said in the article. "It's an ugly disease."
Neve met with Dr. Pappa and her health team in a private consultation and quickly signed up for integrated, total body treatment.
As part of the program, Neve meets one-on-one with her health coach, Linda England, RN, and receives guidance on nutrition, fitness, and sleep and stress issues. Her metabolic health is monitored with regular biomarker tests that examine various aspects of her health, including her insulin dynamics, cardiovascular health, vitamin and nutrient levels, and hormones levels. Dr. Pappa goes over the test results with Neve in one-on-one consultations, explaining how each biomarker impacts her health.
"We know that education is a huge component in a person's ability to improve their health," said Pappa in the article. "We want the patient to feel comfortable, to understand the information we are giving them. We want them to succeed."
Neve, who has nearly completed the yearlong program, has successfully reversed her prediabetes and has also improved her blood pressure and cholesterol numbers.
"The program has truly helped me," said Neve, adding, "I look to Dr. Pappa and Linda as partners who have helped me stay on track to optimal health." Read the article here.
Not all prediabetics will be as fortunate as Neve.
About 15%-30% of people with prediabetes will progress to type 2 diabetes within five years if they do not make significant changes to their health, says the CDC.
Getting tested for diabetes is the first step. Armed with knowledge of a diabetes diagnosis, a person can make more informed decisions and implement important changes to their health regimen.
At the PreDiabetes Center of Southwest Houston, clients receive concierge personalized prediabetes treatment that pairs traditional medicine with health coaching, nutritional supplementation, hormone optimization, an advanced dietary plan and other therapies. The Center also offers free diabetes blood testing.