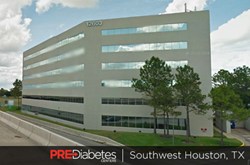 Houston, TX (PRWEB) August 13, 2013
PreDiabetes Centers, a rapidly expanding diabetes prevention company offering personalized prediabetes treatment, is moving to a more central location in Southwest Houston to better serve its fast-growing client base in Houston and the surrounding area.
Beginning August 19th, the PreDiabetes Center of Sugar Land will become the PreDiabetes Center of Southwest Houston.
The new Center is located at 12603 Southwest Freeway, Suite 600, Stafford, TX 77477. The Center's telephone number is (832) 699-1123.
At the PreDiabetes Center of Southwest Houston, clients will continue to receive top-notch, individualized treatment from Dr. Pappa and the rest of the prediabetes health team. With the assistance of a health coach, Dr. Pappa oversees treatment of clients enrolled in a 12-month program that uses the latest breakthroughs in medicine, nutritional supplementation, prediabetes diet planning, customized fitness and hormone therapy.
Dr. Pappa has extensive experience in integrative and functional medicine. She uses comprehensive, integrated medical and lifestyle treatment to help patients with prediabetes stop the progression to diabetes–a disease in which the body is unable to produce or use insulin effectively.
More than 79 million Americans have prediabetes, defined as blood glucose levels that are high but not yet high enough for a diabetes diagnosis.
People who are concerned about their health can take the 2013 Diabetes Risk Survey–a score-based assessment that calculates a person's individual risk factors for type 2 diabetes. They can also schedule a free blood screening on the PreDiabetes Center website.
Dr. Pappa is a graduate of the University of Texas Medical School in Houston. A board-certified physician, she completed her residency at the University of Texas Memorial Family Residency Program and has practiced in the Houston area for more than 15 years. Dr. Pappa is the founder of JAVANI Center for Wellness, a premier wellness clinic for the treatment of acute and chronic health conditions. Prior to that, Dr. Pappa served as Assistant Professor and Associate Program Director for the Baylor Family Medicine Residency Program.
PreDiabetes Centers is a privately owned company based in Austin, Texas, dedicated to the prevention and treatment of diabetes. Treatment at the Center is based on physician-directed care and lifestyle intervention tailored for each client. The company offers a complimentary biomarker-based blood screening that can detect prediabetes, and also continuing biomarker tests throughout the personalized program to monitor specific processes in the body associated with prediabetic conditions.
Connect with PreDiabetes Centers on the PreD blog.