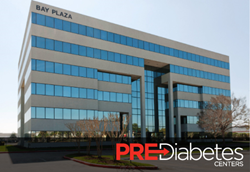 Combining conventional medicine with complementary therapies is the best way to prevent diabetes.
Houston, TX (PRWEB) January 20, 2015
PreDiabetes Centers is pleased to announce the grand opening of a second treatment center in the Greater Houston area. The PreDiabetes Center of Southeast Houston, opening its doors next month in Webster, is led by Lisa Sachdev, DO, a distinguished physician who will direct comprehensive, personalized medical care for patients enrolled in the Center's 12-month prediabetes treatment program.
The PreDiabetes Center of Southeast Houston is located at 711 Bay Area Blvd., Suite 400, in Webster. People interested in learning their risk for diabetes can call (832) 266-0980 to book a complimentary diabetes blood screening. The Center opens on February 10.
The advanced screening measures 15 health markers associated with diabetes, including fasting blood glucose, hemoglobin A1c, C-reactive protein, thyroid hormones, testosterone, vitamin B12, cholesterol levels, insulin, and more.
Dr. Sachdev and the prediabetes health team use medicine, nutritional supplementation, prediabetes diet planning, customized fitness, hormone optimization, and other targeted therapies to stop or slow the progression of type 2 diabetes.
Dr Sachdev is a board-certified family physician with extensive experience in preventive medicine. She graduated from the University of North Texas Health Science Center at Fort Worth and completed her residency at San Jacinto Family Practice in Baytown, Texas. A member of the Texas Medical Association, Harris County Medical Society and American Academy of Anti-Aging Medicine, Dr. Sachdev is a licensed doctor of osteopathic medicine and specializes in disease prevention and complete, whole-body medical care.
Dr. Sachdev founded a family practice in Pasadena, Texas, in 2003 and has been honored with numerous awards, including a 2011 Patients' Choice Award, Compassionate Doctor Award and America's Top Doctors Award. Diabetes and its related complications have become more common among Dr. Sachdev's patients, and she is excited to provide advanced care and targeted metabolic treatment to help patients reverse the onset of type 2 diabetes.
Dr. Sachdev believes in providing comprehensive, compassionate care to patients with a focus on nutrition and wellness.
"Combining conventional medicine with complementary therapies is the best way to prevent diabetes, improve longevity and achieve complete mind-body wellness," says Dr. Sachdev.
Those who feel they may be at risk for diabetes can take the online Diabetes Risk Survey.