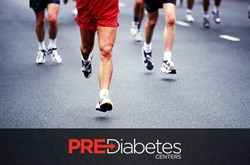 (PRWEB) September 11, 2013
The PreDiabetes Center of Atlanta is proud to announce its participation in the Kaiser Permanente 5K Corporate Run/Walk, an event that's open to walkers, joggers, runners, and elite runners who are passionate about getting and staying active.
The Kaiser Permanente Run/Walk will take place Thursday, September 12 at Turner Field, located at 755 Hank Aaron Drive in Atlanta, at 7 p.m. The event will start and finish at the Olympic Rings, with separate start line-ups for runners and walkers.
The 5K course will have two water stations, near miles 1 and 2, and all 5K participants will receive a commemorative T-shirt, race day refreshments and entertainment at the finish line. Registration fee for the event is $32 per person through September 11. Registration is not available on race day.
PreDiabetes Centers will be at the finish line conducting free Diabetes Risk assessments, and will have staff available to speak with people about the dangers of prediabetes and also schedule free blood screenings for people who feel they may be at risk.
Those who are unable to attend the event can book a free blood screening by calling 1-855-399-7733 (PRED). For greater convenience, people also have the option of scheduling online.
Dr. Alise Jones-Bailey, a prediabetes physician at the PreDiabetes Center of Atlanta, hopes that more people will become aware of prediabetes–a serious metabolic condition that leads to the development of type 2 diabetes–and urges people to get screened for the condition.
Named in "The Best Choices for Doctors" in Essence magazine, Dr. Jones-Bailey is a distinguished doctor who has practiced in Atlanta for 18 years. She meets with clients at the PreDiabetes Center of Atlanta, located at 3280 Howell Mill Road, Suite 204 East.
PreDiabetes Centers is a privately owned company based in Austin, Texas, dedicated to the prevention and treatment of diabetes. The company offers a 12-month personalized program that treats prediabetes and its associated conditions, and uses advanced biomarker testing to monitor specific processes in the body associated with prediabetic conditions.