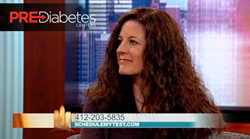 Having prediabetes doubles your risk of heart disease.
Pittsburgh, PA (PRWEB) May 29, 2014
PreDiabetes Centers Medical Director Dr. Lauren Loya spoke about the urgency of prediabetes and diabetes screening on "Pittsburgh Living" on CBS-affiliated KDKA channel 2 on Friday, May 23rd.
Loya explained to "Pittsburgh Living" host Carol Lee Espy that although prediabetes sounds like a harmless condition, it's not. Prediabetes is a health disorder that occurs when blood sugar levels are elevated but not yet high enough for a type 2 diabetes diagnosis.
Loya explained that prediabetes is just as serious as diabetes.
"We're starting to see many health risks associated with diabetes in the earlier stage of prediabetes," said Loya. "Having prediabetes doubles your risk of heart disease."
Fatigue, frequent urination, thirst and numbness/tingling are a few of the symptoms of prediabetes.
Loya cautioned that many people who have prediabetes may not show any signs of the disease because symptoms develop gradually and often go unnoticed.
"Many patients don't experience [the symptoms] until they get a full-blown diabetes diagnosis," Loya said.
Diabetes diagnosis can shorten your life by 7 ½ years, Loya explained to Espy, which is based on clinical findings published in the Archives of Internal Medicine.
"Everybody should be screened [for prediabetes and diabetes]," said Loya, especially people who have risk factors including being obese or overweight, have a sedentary lifestyle, family history of diabetes, or a past diagnosis of gestational diabetes.
Another key risk factor in the development of diabetes is poor nutrition, Loya explained. "We've [stopped] eating real food," and instead eat processed food, she noted. Nutrient deficiencies and metabolic dysfunction are contributing factors in the progression to diabetes.
The first step toward stopping the development of diabetes is to be screened for prediabetes and diabetes.
"The screening process is really quick, it's easy and the best part about it is it's free!" said Loya.
Here's how it works: A phlebotomist draws a person's blood, which is sent to the PreDiabetes Centers lab for comprehensive testing. This advanced blood test examines a panel of markers that includes fasting blood sugar and hemoglobin A1c–markers that are commonly measured in a diabetes test–but also several additional markers including insulin, homocysteine, C-peptide, cholesterol and certain hormones.
Loya explained that these other biomarkers play a role in a prediabetes and diabetes diagnosis. For example, high testosterone levels in women can be a risk factor for diabetes, while low testosterone levels increase a man's risk. Thyroid testing is also done in the complimentary blood test, as an imbalance of thyroid hormones can contribute to a prediabetes and diabetes diagnosis.
After the blood test, a person receives an in-depth consultation with Dr. Loya to learn where they are on the path to diabetes.
Espy asked that if a person has prediabetes, what happens next?
Loya explained that her health team specializes in prediabetes treatment.
"We've developed a comprehensive, intensive and aggressive 12-month program to address all of the factors that play into prediabetes. Our focus is prevention. We want to stop people from going on to develop diabetes," said Loya.
"It takes more than a prescription medication and telling someone to go lose weight and come back in six months," said Loya. "[The prediabetes treatment team includes] health coaches who are nurses that work with patients to individualize the program. There is no blanket way of doing this that works for everyone."
Loya and her health team use hormone optimization, nutritional supplements, sleep and stress therapy, and a prediabetes dietary plan to reverse the diabetes process, and employ regular blood testing to measure biomarkers periodically throughout the year.
People who think they may be developing prediabtes or diabetes and are interested in a free blood test can call (724) 374-4742, or visit http://www.ScheduleMyTest.com to book a test online.