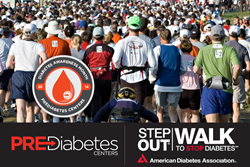 Fort Worth, TX (PRWEB) November 06, 2014
PreDiabetes Centers, the nation's leading provider of comprehensive prediabetes treatment, will attend the American Diabetes Association's (ADA) Step Out: Walk to Stop Diabetes (North Texas) on Saturday, November 8th.
The event will be held at QuikTrip Park in Grand Prairie, located at 1600 Lone Star Parkway. The fundraising walk is a celebration honoring attendees with type 1, type 2 and gestational diabetes, and will feature music, food, kids' activities, local entertainment and a timed 5K/3 mile walk or run. Registration begins at 8:30a.m., the walk/run begins at 10:30a.m and closing ceremony starts at 11:30a.m. People who are not interested in walking or running are welcome to attend the event to enjoy the festivities.
PreDiabetes Centers is excited to help event goers learn their risk for diabetes. Attendees will be able to speak with a PreDiabetes Centers registered nurse Health Coach and receive a Diabetes Risk Assessment at the Company's booth. All event-goers are encouraged to visit the PreDiabetes Center of Fort Worth to receive a free diabetes blood screening.
Family members of type 2 diabetics, in particular, should sign up for free diabetes testing at the PreDiabetes Centers booth, since type 2 diabetes runs in families due to genetics and shared lifestyle risk factors.
PreDiabetes Centers is a proud partner of the ADA's Stop Diabetes @ Work initiative, which aims to prevent the development of diabetes and help people manage the disease more efficiently. Developing innovative detection and treatment for diabetes is a shared mission of both the ADA and PreDiabetes Centers.
The Walk to Stop Diabetes, which takes place in 121 cities across the country, helps promote awareness about the seriousness of diabetes. All proceeds raised through the Step Out: Walk to Stop Diabetes will help fund research to prevent, cure and manage diabetes and assist the ADA in delivering service and support to communities.Attendees can register to walk or run in the event on the ADA's website or at the event on the day of. Participants' fundraising collections and donations can be presented at registration.
People who are unable to attend the event can sign up for a free screening at a local PreDiabetes Center or on the PreDiabetes Centers website.
PreDiabetes Centers specializes in the treatment of prediabetes using advanced, continuing biomarker blood tests to ensure that metabolic processes in the body related to prediabetes are being reversed. Treatment plans are customized for each client and based on physician-directed medical care and lifestyle intervention.