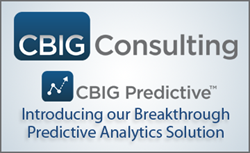 ...we wanted our CBIG Predictive™ solution to include a more strategic link to future success that's missing from the more traditional forecasting approach.
Chicago, IL (PRWEB) February 23, 2016
This week, Big Data analytics expert CBIG Consulting made public its latest breakthrough involving predictive analytics, developed to go beyond one-dimensional assessments of historical data to better predict and plan for future outcomes. Considered a market leader by several Big Data industry analysts, CBIG has grown its success and business reputation on a commitment to developing scalable strategic solutions that can be applied to most business sectors.
CBIG co-founder John Onder stated the firm's CBIG Predictive™ analytics solution responds to client demand for predictive analytics that offer more than just rear-view mirror forensics, asserting, "From strategy and data gathering to systems deployment and ongoing management, we wanted our CBIG Predictive™ solution to include a more strategic link to future success that's missing from the more traditional forecasting approach."
Onder explained that CBIG Predictive™ is a full life-cycle, sustainable predictive analytics methodology that begins with developing clear strategic goals, whether it's to meet future revenue objectives, create more targeted marketing initiatives, explore cost reduction opportunities, or reduce attrition rates, among others. He added that CBIG Predictive™ is a robust solution that integrates valuable data from many myriad sources, a crucial component in developing more accurate forecasting processes. "Now you don't have to limit your future potential by depending solely on restrictive data sources, which can't tell the full story in a global marketplace."
Onder mentioned that CBIG Predictive™ implementation specialists can test complex future scenarios and predict specific consequences that would either benefit or hinder an organization's ability to achieve its objectives. He added that CBIG Predictive™ is supported by CBIG's ongoing managed services to help monitor programs and make recommendations outlining future enhancements where iterative learning and incremental enhancements can be achieved, so your business can follow and assess external environmental impacts over time.
About CBIG Consulting
CBIG Consulting is an international team of experts in Business Intelligence, Big Data Analytics, Data Warehousing, and Cloud-based Analytics platforms. Named a top BI and Big Data consulting firm by independent research organizations and publications, CBIG's management consultants, business analysts, data architects and engineers are seasoned professionals dedicated to the analytics space. CBIG works with global enterprises, mid-size businesses, and non-profit organizations in solving mission-critical reporting and analytical needs. CBIG is headquartered in the Chicago area and has additional offices in San Francisco, Boston, Denver, Austin, Raleigh, and Seattle in the U.S.; Sydney, Melbourne, Auckland and Singapore serving the Asia-Pacific region; and London serving the EMEA region. For more information, please visit http://www.cbigconsulting.com.