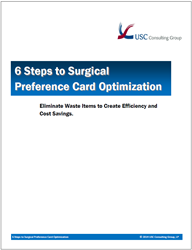 A proper mix of people, process, and technology is necessary for long-term, sustainable cost savings from Preference Card Optimization.
Tampa, FL (PRWEB) May 12, 2014
USC Consulting Group (USCCG) has released the latest free to download whitepaper from its Hospital and Healthcare Solutions Practice. The paper entitled, 6 Steps to Surgical Preference Card Optimization, discusses how hospitals can embark on continuous improvement of their Surgical Preference Card system in order to achieve greater efficiency and cost savings from ensuring that only the needed surgical items are pulled and issued for each surgical case. The result is elimination of inefficiency, waste and increased cost associated with opening items that are not needed, or that are unopened, but damaged in the restocking process, as well as the inefficiencies in restocking unnecessary items that were issued and returned.
Hospitals face a constant challenge of keeping costs low but without sacrificing patient care and safety. One opportunity for cost savings is in the operating room where surgical, or physician preference cards act as the bill of materials for a procedure. These cards, which can be paper or electronic files, indicate what material and instruments need to be used during a scheduled surgical procedure. The cards also can serve to document what materials are actually used in a procedure and charged to a patient, so it is imperative that they be kept up-to-date and error-free.
"Many hospitals have made efforts to improve the efficiency of their preference cards, but most have not had long-term success," says Lanny Rubin, Project Manager for USC Consulting Group and author of the whitepaper. "They may benefit from short-term savings, but unless they fix the process, they are unable to achieve on-going savings."
The six steps featured in the whitepaper combine people, process and technology to create a foundation for long-term success. Benefits can include cost savings per case, reduced inventory, material waste and labor, and improved employee satisfaction and morale.
The whitepaper can be downloaded from the USCCG blog, Metrics at MetricsBlog.wordpress.com.
About USC Consulting Group, LP
USC Consulting Group (USCCG) is an operations management consulting firm helping clients improve financial performance with a focus on operational excellence across the supply chain. Founded in 1968, the firm brings experience, enabling technology, and subject matter expertise to implement solutions, not just recommend them. With offices in the United States and Canada, and projects spread across the globe, USCCG has worked in many industries with companies of all sizes, including many in the Fortune 1000. For more information please follow us on LinkedIn, Twitter or visit http://www.usccg.com.