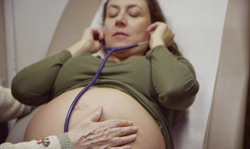 I felt since this is such a profound change in a couple's life, there should be a movie about it—so I decided to tell the story.
New York, NY (PRWEB) May 01, 2014
When director Chris Henze and his wife were expecting their first child and looking for a film to help them throughout their forty weeks, they couldn't find anything addressing the entire process of pregnancy in one place. This discovery was both disappointing and a great opportunity. As Henze recalls: "I felt since this is such a profound change in a couple's life, there should be a movie about it—so I decided to tell the story."
Henze assembled a group of talented and respected professionals to film, score, edit and craft the movie in an intimate and personal manner. Executive producer Kurt Engfehr ("Bowling for Columbine", "Fahrenheit 9/11", "Fat, Sick, and Nearly Dead"), casting director Lisa Singer ("The Bachelorette", "Queer Eye"), and editor April Merl ("2012: A Time for change," "The Yes Men Fix the World") join Henze in telling this story.
Starting a family is a life-changing event – both joyous and anxiety-ridden at the same time. Families are seeking information and re-evaluating everything in their lives--from what they consume, to what cleaning products they use, to the type of insurance coverage they'll need!
Henze and his wife, producer Dominique Debroux, realized that 40 Weeks is a great vehicle to offer emotional and informational support to pregnant women as well as present them with trusted products they will need. So they called family friend Kate Rolston – a 15-year veteran of the mom and baby world who had successfully developed and built her award-winning brand, Real Savvy Moms on an innovative sponsorship model. Kate says: "I was thrilled to come on board as executive producer to help grow the amazing world of 40 Weeks. There are few times in a person's life when brand loyalty comes under such scrutiny, and pregnancy is an ideal time to present brands as solutions to the family's changing needs."
To ensure that all health care information in the movie is accurate and current, 40 Weeks' key partners include the Association of Women's Health, Obstetric and Neonatal Nurses, the world's largest nursing authority dedicated to the health of women and babies, HealthyWomen.org, the nation's leading independent health information source for women, and the March of Dimes, the most respected non-profit organization dedicated to helping moms have full-term pregnancies and healthy babies.
40 Weeks is made for both moms and dads — presenting a beautiful palette of families' experiences on their journey into parenthood. In the film, universal milestones of pregnancy are presented hand in hand with the personal experiences of the film's generous and amazing expectant couples. Their diverse backgrounds will resonate with audiences, reassuring any mom-to-be that she is not alone.
With 6 million pregnancies in the U.S. annually, the pregnancy market is evergreen. Expectant moms are always searching for information; they are voracious consumers of media, looking for the latest advice on health & wellness, new products, and anything else that will make their pregnancy and parenting life run smoother.
Using a multi-platform strategy that rolls out today, and working closely with their expert partners from the parenting and healthcare worlds, 40 Weeks is engineered to provide a world of information to expectant moms and their families.
The film's November launch will be preceded by a series of topic-specific web videos that will introduce the film's families and provide a sneak peek into the film itself.
40 Weeks invites audiences to sign up to stay in the know about premieres and opportunities to meet the families featured in the film. To learn more and watch the videos, please visit http://www.40weeksthemovie.com.
Contact Information:
Michelle Fix
michelle(dot)m(dot)fix(at)gmail(dot)com
(646) 331-7250
http://www.40weeksthemovie.com/