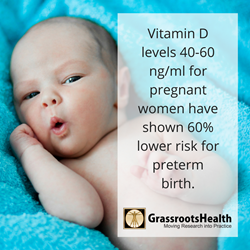 We can't wait another 30 years to protect the health of our children - the research is available now!
Encinitas, CA (PRWEB) July 25, 2017
PLOS ONE today released a research paper which is the fourth research paper, all confirming the benefits of vitamin D to pregnancy and early childhood. Using data from a 15-month nutrient field trial, the paper reports a 62% reduction in preterm birth when women raise vitamin D levels, as determined by a blood test, above 40 ng/ml (100 nmol/L) by delivery, as compared to women who had levels below 20 ng/ml (50 nmol/L).
Women in this field trial were given vitamin D supplements of 5000 IU. None of the 1,064 women in the trial had any adverse reactions attributed to vitamin D supplementation. Vitamin D levels above 40 ng/ml were safe throughout pregnancy.
This study focused on preterm birth, defined as a baby being born before 37 weeks, which is the single biggest health risk for infants today. Preterm birth is cited as the reason for 28% of newborn deaths (first month of life). The earlier a baby is born the more likely they are to have health problems. Some of these problems don't show up right away, they may not appear until age 3, or even later. Longer term problems associated with preterm birth include ADHD, cerebral palsy, autism, asthma, intestinal problems, pneumonia, vision problems, hearing loss, and dental problems. Researchers believe there are other benefits to vitamin D sufficiency during pregnancy as shown on this disease incidence prevention chart from GrassrootsHealth.
A non-profit dedicated to moving research into practice, GrassrootsHealth, has spearheaded a program called Protect our Children NOW! that helps medical practices change their standard of care to include vitamin D testing at the first prenatal visit and education to help mothers raise their vitamin D levels to at least 40 ng/ml (100 nmol/L) as soon as possible during pregnancy. This paper analyzes data for the first 15 months of this program at the Medical University of South Carolina.
"The message is clear--it is time to move quickly to save the health of the next generation. We can help prevent preterm births now, we don't need more research to get started with the testing and supplementation of pregnant women," said Carole Baggerly, Director of GrassrootsHealth.
GrassrootsHealth recommends that women who are 12-17 weeks pregnant join the GrassrootsHealth study for free to test their vitamin D level. For women who are conceiving or later in their pregnancy, GrassrootsHealth recommends using D*action to test vitamin D levels. While vitamin D is included in most prenatal vitamins, the amount is not likely enough to raise your level to 40 ng/ml. Test, use GrassrootsHealth's wealth of information to raise your level, and test again. Try and get above 40 ng/ml as early as possible within your pregnancy.
"These findings are another powerful example of the importance of the environment in our human health," said Roger B. Newman, MD, Dir. OB/Gyn, Medical University of South Carolina. "Our evolution away from sun exposure over the last hundred years has resulted in widespread Vitamin D deficiency which contributes to multiple health consequences including higher and racially disparate preterm birth rates."
Folic acid is currently considered a must for pregnant women as it has been shown to reduce neural tube defects up to 70%. Most pregnant women take folic acid, but it took 30 years to become standard practice.
We can't wait 30 years to get vitamin D to all pregnant women! GrassrootsHealth urges all pregnant women to measure their vitamin D levels -- either at home or with their OB.
About GrassrootsHealth
GrassrootsHealth is a nonprofit public health research organization dedicated to moving public health messages regarding vitamin D from science into practice. It has a panel of 48 senior vitamin D researchers from around the world contributing to its operations. GrassrootsHealth is currently running the D*action population intervention program to solve the vitamin D deficiency epidemic worldwide. Under the D*action umbrella, there are programs looking at the entire population as well as targeted programs for breast cancer prevention, Omega-3 project and a 'Protect Our Children NOW!' program to reduce the complications of vitamin D deficiency encountered during pregnancy and childhood.