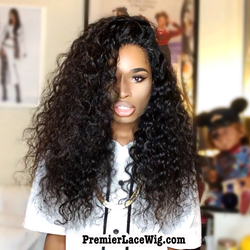 Your hair is your crown, and for 20 years, Premierlacewigs has been the Prime destination for such a jewel
Qingdao,China (PRWEB) May 06, 2015
In celebration of their twentieth anniversary, Premierlacewigs.com launched a monthly free wigs giveaway. Every month they will give away a deluxe human hair lace wig valued at $300 USD for free. They listed a few steps to enter on a third-party giveaway tool. The important thing is the winner is chosen at random, so anyone can be the winner.
The hair is a crown, a reflection of inner beauty, and PremierLaceWigs.com has been the destination for such a jewel for the past 20 years. Whether it is for daily wear or a special occasion, hair quality is always the first thing people pay attention to.
As a proactive seeker of improved methods and materials, the company commits to the idea that quality should never be compromised. Their virgin hair is donated from young and healthy girls. Virgin hair is the unprocessed hair with cuticles going the same direction, so it is the best hair to make wigs & hair extensions.
Premierlacewigs provides the largest variety of hair extension products. Global and localized trends create a lot of room for varied and flexible options to customize each order to your needs and desires. The company has catered to wholesalers in the United States, Japan, Nigeria, Germany, Canada, the United Kingdom, as well as other countries.
One loyal customer, Elizabeth Elmore entered this giveaway and said, "I have been a customer for 5 years. They(Premierlacewigs.com) make me so beautiful and young.I want to win this giveaway. "
To Enter the Free Wigs Giveaway, below are the steps on the company's website:
1. Like the company Facebook Page
2. Follow Instagram@premierlacewigs, then comment on the designated giveaway post and tag @ 5 friends
3. The winner will be asked to share her photos and video review with her wig.
To learn more and enter the giveaway, visit monthly giveaway
About Premierlacewigs.com
Premierlacewigs.com is the official online store of Qingdao Premier Wigs Co., Ltd. Founded in 1995, Qingdao Premier Wigs Co., Ltd started as a response to a faulty relationship between her admirers and the suppliers. Since then, Premier lace wigs has grown into one of China's top hair manufacturers for the international community. They are dedicated to serving the hair business by developing and manufacturing top quality stylish products, including full lace wigs,lace front wigs,silk top lace wigs, Jewish wigs, machine made wigs, machine wefts/weaves bundles, lace closures, silk base closures, hair extensions etc. All products are made by 100% human Brazilian virgin hair, Malaysian virgin hair, Chinese virgin hair and Indian remy hair. They integrate design, research, manufacture and sales together, with 20 top grade designers and 2000 skilled workers.