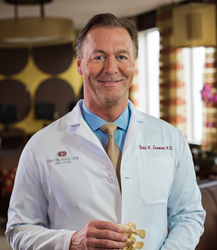 LOS ANGELES (PRWEB) May 09, 2019
Los Angeles spinal neurosurgeon Dr. Todd H. Lanman convened earlier this month with fellow principal investigating surgeons of the M6 Artificial Disc Replacement trial, to formally receive official certification from the FDA in preparation for the arrival of M6 implantation instrumentation.
The two-day IDE HCP Training for the new FDA approved M6-C Artificial Cervical Disc Device by Orthofix took place on May 3rd and 4th at the Orthofix Headquarters in the Dallas-Fort Worth area.
Dr. Lanman, founder of Beverly Hills-based practice Lanman Spinal Neurosurgery (http://www.spine.md), and an innovator in spine care technology, will begin implanting this advanced disc device in patients in June.
Along with Dr. Lanman, who will be overseeing implantation of the M6-C for Greater Los Angeles, the congregation of spine surgeons included premier providers of the device from various regions across the U.S.
The M6-C is the first cervical artificial disc device with a viscoelastic core, properly mimicking the natural structure and nuanced movement of an anatomical human cervical disc, a major medical advancement for spine care technology. All previous cervical artificial disc devices were made with metals, ceramics and hard plastics, which do not have compressibility like that of a normal human disc.
At the 2-year mark, clinical patient outcomes have shown the M6-C device to be statistically superior relative to neck and arm pain and neurologic outcomes.
In 2018, Dr. Lanman became the first spinal neurosurgeon in the United States to offer a state-of-the-art motion restoration procedure through replacing a patient's fusion with one or more artificial disc devices, giving them previously restricted or limited movement back in their neck. And the year prior, he received FDA approval on a new two-level artificial cervical disc device, which he revealed for the first time on CBS' "The Doctors" demonstrating a patient's surgery and subsequent rapid recovery.
Lanman has become the specialist for spine health and surgery, with many of his patients including major A-list celebrities, sports leaders and business magnates, who travel from afar to receive his unparalleled medical care.
Dr. Lanman, who has been recognized as the "Leader in Health Care' by the Los Angeles Business Journal when he earned the prestigious award and title at the 2018 Health Care Leadership Awards, and who is often named a 'Top Doctor' in Los Angeles by The Hollywood Reporter, Los Angeles Times and other mainstream media outlets, is affiliated with Cedars-Sinai Medical Center and UCLA Medical Center.