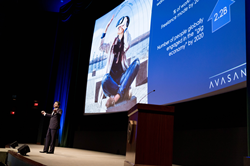 "We live In an age of limitless possibilities brought about by Digital Singularity. Organizations require the vision and courage to challenge the status quo. Our theme "Dare to Dream" epitomizes this approach and shows the path to Digital enterprise."
LOS ANGELES (PRWEB) January 22, 2019
Avasant's flagship conference, Empowering Beyond Summit 2019, will be hosted on March 19, 2019 at the Novo Theater in Los Angeles, CA. This annual summit, recognized as the premier digital transformation focused event, will feature high-level speakers from major Fortune 500 firms to share their insights and experiences. Some of the main executive speakers include:

Steve Andujar, EVP and CIO, Sony Pictures Entertainment, Sony Corporation
Ray Barnard, EVP, Systems and Supply Chain, Fluor
Mary Gendron, SVP and CIO, Qualcomm
Sean Lennon, SVP and CIO, Allergan
Sabby Ray, COO, AIG Life & Retirement
Over 250 senior executives from major enterprises, technology and services companies are expected to attend.
This year's theme, "Dare to Dream: Future of the Digital Enterprise" brings into focus the role of digital services, automation, artificial intelligence, blockchain and other technologies working in tandem to bring about transformation. Avasant CEO Kevin Parikh says, "We live In an age of limitless possibilities brought about by Digital Singularity. Organizations require the vision and courage to challenge the status quo. Our theme "Dare to Dream" epitomizes this approach and shows the path to Digital enterprise."
As in the past, Avasant's Empowering Beyond Summit will be hosted at an exclusive venue that provides a truly immersive experience for attendees. This year the summit will be held at the world famous venue, The Novo @ LA Live, and attendees will have the opportunity to take an exclusive VIP tour of the Grammy Museum, a one-of-a-kind, interactive museum featuring the history and winners of the Grammy Awards, musical genres and artists.
According to Anupam Govil, Partner at Avasant and Chair for Empowering Beyond Summit, "Innovation and disruption is an imperative to thrive in today's evolving digital economy. Empowering Beyond summit will provide unparalleled insights and advice from world's top executives on the roadmap for digital transformation."
Empowering Beyond Summit is widely acknowledged as the must-attend event for senior business and technology executives representing innovative companies and service providers. Registration is now open and can be accessed via the Empowering Beyond Summit 2019 event page.
For inquiries, please reach out to Nicole Dulay at nicole.dulay(at)avasant.com.
About Avasant
Avasant is a leading management consulting firm focused on translating the power of technology into realizable business strategies for the world's largest corporations. Specializing in digital and IT transformation, sourcing advisory, global strategy, and governance services, Avasant prides itself on delivering high-value engagements through industry-focused innovation and flexible client-based solutions.
Our seasoned professionals have an average of 20 years of industry-honed expertise, having conducted 1000+ engagements in over 50 countries. Avasant's next generation consulting and advisory methods have made it the top-ranked firm in its class, with recognition from numerous organizations, including: Vault, NOA, IAOP, and Wall Street Journal.
Avasant's engagement in the global market has inspired a strong commitment to community and purpose. Avasant Foundation supports technology and skill development programs to create employment opportunities for youth across Africa, Asia, the Caribbean and Latin America.
For more information, visit http://www.avasant.com.
Follow news, photos and video on Twitter at http://www.twitter.com/avasant, Facebook at https://www.facebook.com/avasantllc, and LinkedIn at https://www.linkedin.com/company/avasant.