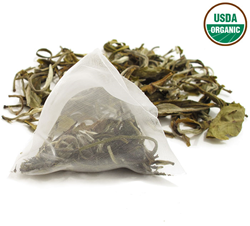 We love being able to feature local products at Pigtrain Coffee and The Tea Spot has been an incredible addition to our lineup of offerings... [We] have had an overwhelmingly positive response from our guests.
Boulder, CO (PRWEB) October 01, 2014
In an effort to make high quality tea even more accessible to coffee shops and restaurants, The Tea Spot added premium biodegradable tea sachets to its offerings, presenting an easier and quicker way to enjoy quality, whole leaf tea. They are currently available in ten top-selling teas, including five single-origin organic teas and five signature blends. The tea sachets offer a perfect way for restaurants and coffee shops to serve high quality tea without the labor and equipment of loose leaf, and they're being put to test in Denver's new Union Station at Pigtrain Coffee. Pigtrain Coffee is offering all ten of The Tea Spot's sachets alongside coffee from the Denver coffee roaster, Novo Coffee.
Pigtrain's general manager, Jeff Knott, is thrilled to be serving tea sachets from The Tea Spot. He stated, "We love being able to feature local products at Pigtrain Coffee and The Tea Spot has been an incredible addition to our lineup of offerings. The tea is of an exceptionally high quality and the company as a whole has been incredible to work with. We were one of the first to offer The Tea Spot Tea Sachets and have had an overwhelmingly positive response from our guests."
The Tea Spot created these sachets with avid tea drinkers in mind, acknowledging the fact that not everybody can devote the time to preparing loose leaf tea every day. The large, biodegradable tea bag offers a generous portion of fresh tea leaves, allowing just one sachet to prepare a 16 oz cup of tea. The Tea Spot also created these sachets with the intent of better serving the foodservice industry. The Tea Spot's Wholesale Manager, Elise Ridgway, says she hopes that the new sachets will give restaurants and café's a way to serve better tea without more effort. She added, "The foodservice industry is a very high-paced and sometimes stressful environment, so we're excited to be able to offer them a simple way to serve higher quality tea to their customers without adding time and effort."
###
About the Tea Spot: The Tea Spot is a leading producer of handcrafted loose leaf teas and creator of Steepware®, the housewares tools that make loose tea easy. The company's vision to modernize the loose leaf tea experience has held steadfast since the for-profit philanthropic company was founded by Maria Uspenski in 2004, a cancer survivor drawn to the health benefits of leaf tea during her recovery. Her message is simple and powerful: tea in its freshest form renders premium flavor, unmatched health benefits, and is eco-friendly. The Tea Spot's model of social entrepreneurship incorporates its mission to foster health and wellness through loose leaf tea, with its 10% Pledge. Ten percent of the company's profits are donated in-kind to cancer and community wellness programs. The Tea Spot is a Boulder, Colorado-based, certified B Corp, woman owned and operated business. theteaspot.com