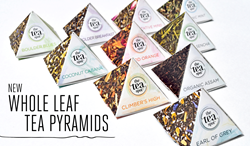 Denver, CO (PRWEB) May 04, 2015
Colorado's philanthropic tea company, The Tea Spot, will be featured prominently as a gold-level exhibitor and tea educator at the World Tea Expo—the leading trade show and conference focused 100% on premium teas, teaware, and related products. The event will take place at the Long Beach Convention Center, May 4 - 8, 2015. The Tea Spot's products will be displayed Wednesday through Friday, May 6 – 8 in the exhibition hall, as well as in the New Product Showcase of the expo. All visitors to The Tea Spot's booth (#814) will receive a free gift bag with a sample of one of the new products. The company has established an industry reputation as a developer and marketer of leading edge products in premium tea. The Tea Spot's mission of infusing health and wellness into the everyday with whole leaf tea supports its reputation in the tea industry as the spearhead of new wave premium healthy tea products.
On the educational side of the conference, The Tea Spot will be featured each day of the World Tea Expo.
On May 6th, in the class "Taking Tea to New Heights in the Coffee Shop," Mary Kloberdanz, sales and community outreach manager at The Tea Spot, will educate business owners and baristas on tea-based signature drinks as a source for increasing sales at cafes in the United States and Canada. Kloberdanz will also show how tea should be integrated as a profitable staple on the coffee bar menu.
In the session titled "The Big Chill in Premium Tea" on May 7th, Maria Uspenski, The Tea Spot's CEO, will explain how and why upscale restaurants and cafes prepare iced teas using the cold brew method. Hospitality and food service industry professionals will learn how to explore the fine teas which play best in the cold brew tea trend.
"Tea and Yoga: A Blend Steeped in History, Health and Spirit" will be presented on Friday, May 8th, by The Tea Spot's Maria Uspenski and Margaret Burns Vap, founder of Big Sky Yoga Retreats and creator of Cowgirl Yoga. Tea industry participants in this session will gain an understanding of how yoga and the modern tea ritual share parallel natures, and how to best approach and market to yoga businesses.
All three educational sessions are open to World Tea Expo attendees who register for the class in advance. More information about the World Tea Expo educational series can be found online at worldteaexpo.com.
In addition, Maria Uspenski, The Tea Spot's CEO, will be educating new tea businesses on "Financial Management Considerations" as a part of a one-day new business start-up intensive, on Monday, May 4, 2015.
###
About The Tea Spot: The Tea Spot is a leading producer of handcrafted whole leaf teas and the creator of Steepware®—innovative tools that make the premium tea experience effortless and accessible. The company's focus has held steadfast since the for-profit philanthropic company was founded by Maria Uspenski in 2004, a cancer survivor drawn to the health benefits of leaf tea during her recovery. Her message is simple and powerful: tea in its freshest form renders premium flavor, unmatched health benefits, and is eco-friendly. The Tea Spot's philanthropic 10% Pledge incorporates its mission to foster health and wellness through loose leaf tea. Ten percent of the company's sales are donated in-kind to cancer and community wellness programs. The Tea Spot is a Colorado-based Certified B Corporation, woman-owned and operated business. theteaspot.com