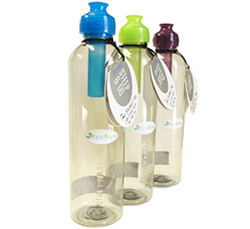 Everyone wants to make healthy changes, and we love to watch that unfold. Our first retreaters to receive The Tea Spot's cold brew filters were using them all weekend!
Boulder, CO (PRWEB) June 27, 2014
The Tea Spot, Boulder Colorado's philanthropic loose leaf tea company, is focusing its 10% Pledge donations this summer on organizations promoting women's cancers awareness and wellness. This month's product donations include cold brew tea and filters, to encourage healthy beverage habits during the summer months.
The tea company shows its unwavering advocacy for promoting wellness through fresh premium tea by donating time, services, and 10% of all sales in product donations to cancer and wellness initiatives. The Tea Spot's CEO, Maria Uspenski, is a cancer survivor herself and very committed to cancer wellness programs on a most personal level.
This month, the company supports the efforts of three Rocky Mountain region groups by donating 10% of tea sales in gift packages containing cold brew tea filters and cold brew green teas and hibiscus teas.
The Tea Spot is making a product donation once again to Colorado Ovarian Cancer Awareness for Jodi's Race 5th Anniversary. Jodi's Race for Awareness is an annual race/walk organized by Colorado Ovarian Cancer Alliance (COCA), whose mission it is to provide support and to promote awareness of ovarian cancer through advocacy and education. This year's race had over 3,000 participants. The Tea Spot contributed survivor gifts for the pre-race cancer survivor breakfast. A quote from an Ovarian Cancer Survivor at Jodi's Race 2014 was communicated by Guadalupe Torres, Executive Director: "The Tea Spot always spoils us - it's such a treat to receive one of their special gifts wrapped in teal, I don't drink coffee, so I'm happy they always provide their delicious teas at the Survivors Breakfast."
A second Colorado-based women's wellness organization that The Tea Spot made a product donation to in June, 2014 is the HERA Women's Cancer Foundation, located in Denver.
Montana-based Big Sky Yoga Retreats is the newest benefactor in The Tea Spot's 10% Pledge Program. The mission at Big Sky Yoga Retreats is to use yoga as a catalyst to cultivate personal growth and find the tools to improve health and well-being. The organization also has a cancer wellness program, "Cowgirls vs. Cancer", which provides retreat scholarships to yoginis who have experienced the physical, emotional and financial hardships of breast cancer. Director Margaret Burns Vap commented on the appeal of The Tea Spot's cold brew teas with her yoga clientele: "Our goal is to provide not only a top-notch vacation, but also an experience that cultivates new healthy habits our retreaters can take home with them. We love partnering with others that share this goal. The Tea Spot is a perfect fit, and we are grateful to be part of their program and share their message, as well as their amazing teas. Everyone wants to make healthy changes, and we love to watch that unfold. Our first retreaters to receive The Tea Spot's cold brew filters were using them all weekend!"
The Tea Spot's CEO Maria Uspenski noted in summary, "We share with our donation recipient organizations the goal of improving people's health and well-being in our communities, and this is something which brings our organizations together and drives our partnerships. Our 10% Pledge is a fundamental cornerstone of our vision, and to watch this aspect of our business flourish is most rewarding for all of us at The Tea Spot."
###
About the Tea Spot:
The Tea Spot is a leading producer of handcrafted loose leaf teas and creator of Steepware®, the housewares tools that make loose tea easy. The company's vision to modernize the loose leaf tea experience has held steadfast since the for-profit philanthropic company was founded by Maria Uspenski in 2004, a cancer survivor drawn to the health benefits of leaf tea during her recovery. Her message is simple and powerful: tea in its freshest form renders premium flavor, unmatched health benefits, and is eco-friendly. The Tea Spot's model of social entrepreneurship incorporates its mission to foster health and wellness through loose leaf tea, with its 10% Pledge. Ten percent of the company's profits are donated in-kind to cancer and community wellness programs. The Tea Spot is a Boulder, Colorado-based woman owned and operated business.