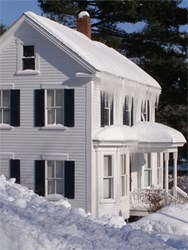 Make sure you follow these necessary steps to preparing your home while you are away to avoid troublesome worries.
Boston, Massachusetts (PRWEB) December 23, 2013
The holidays are one of the biggest times of travel in the U.S., and unfortunately this is something thieves are aware of. During November and December, many thieves target homes that appear to be unoccupied. Travelers can prepare their homes before traveling, in order to help safeguard them against robbery. The professional security team at SecuritySystemReviews.com, the http://www.securitysystemreviews.com/best-home-security-systems/ site, has created a list of tips for homeowners to follow before doing any holiday traveling this year.
SecuritySystemReviews.com is a fully independent, third-party resource providing rankings and reviews of the top security companies throughout the country, including FrontPoint reviews and ADT reviews.
The tips for preparing a home prior to a vacation include:
1. The number one tip is to make it look as if someone is at home, even while they're not. One of the best ways to do this is through the use of home automation systems, which allow homeowners to remotely control everything from exterior lights to televisions, and give a home the appearance of having people present.
2. Arrange to delay mail and newspaper delivery service, or have someone pick these items up each day. Burglars frequently look for signs such as an overflowing mailbox or a collection of newspapers, as an indication that a home's residents are away.
3. Ask a neighbor to keep an eye out for suspicious activity. If possible, let a few neighbors know, so that they can report anything that's strange or out of the ordinary.
4. Don't share anything about a vacation on social media sites like Twitter and Facebook. Increasingly, criminals are using social media as a way to find potential targets.
5. It's a good idea to have a water detection system, particularly during the winter months when frozen pipes and other situations can lead to leaks or floods which can be extremely detrimental. Many home security system companies offer water detection alarms as an add-on to standard alarms.
6. Shut off a home's main water supply before heading on vacation to prevent the bursting of pipes if they do become frozen.
7. For residents of snow-prone areas, it's a good idea to hire someone to keep walkways cleared, because accumulation of snow can show that no one's home.
8. Turn the water heater to a low or vacation setting prior to leaving for a trip.
9. Don't leave items like ladders lying around that could be used to access a second floor window.
About SecuritySystemReviews.com
Throughout the country, from New York security systems to New Mexico security systems, SecuritySystemReviews.com is the most trusted resource for providing unbiased, honest reviews and information. The site is headed by a team of experienced security professionals, and is one of the country's best resources for information on the home security industry.