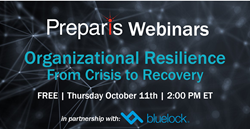 "With today's ever-changing threat landscape, organizations need to be prepared and ready to face any disruptive incident." -Charles Pearson, CEO at Preparis
ATLANTA (PRWEB) September 27, 2018
Leading business continuity (BC) and incident management software and services provider, Preparis, announced today that they will be partnering with Bluelock Solutions for an educational webinar on organizational resilience on October 11, 2018.
"With today's ever-changing threat landscape, organizations need to be prepared and ready to face any disruptive incident," said Charles Pearson, CEO at Preparis. "Having mass emergency notification capabilities with a well-tested, accessible business continuity plan in place is crucial to ensure employees' safety and reduce downtime as a result of an incident."
Bluelock, an InterVision solution, provides Disaster Recovery as a Service (DRaaS) for complex environments and sensitive data to help companies mitigate risk with confidence and is recognized by Gartner and Forrester as a category leader.
Pat Spencer, Director at Bluelock Solutions and Preparis' Wade Tucker will discuss topics including: becoming more resilient, minimizing stress during an incident, supply chain and vendor risk assessments, and post crisis and recovery considerations.
The webinar, Organizational Resilience: From Crisis to Recovery, will take place on Thursday October 11th at 2pm ET. To register for this free webinar, visit https://preparis.com/blog/event/organizational-resilience-webinar/.
From plan creation and development, to training, to emergency notification and incident reporting, Preparis' cloud-based platform enables organizations to effectively manage an entire business continuity program in one place, increasing overall readiness and resiliency. For more information on Preparis' software and services offerings, visit https://preparis.com/solutions/.
###
Preparis is an all-in-one, business continuity and emergency notification solution that helps businesses protect their people, operations and brand while meeting regulatory requirements. The company's unique combination of technology and services makes creating and maintaining business continuity programs easy. For more information about Preparis, please visit http://www.preparis.com or call (855) 447-3750.