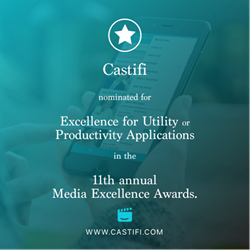 "Castifi has shown great innovation and creativity for productivity mobile apps in the entertainment industry," said Sarah Miller, CEO of Axis PR & Entertainment. "This nomination is a testament to the skill, ingenuity, and vision of its creators."
LOS ANGELES (PRWEB) January 07, 2019
Castifi Inc. announced today that is has been nominated as a finalist for the "Excellence in the Best Utility or Productivity Application" category in the 11th Annual Media Excellence Awards. Hailed as the "Oscars of Technology," the Media Excellence Awards, produced by Axis PR & Entertainment, is recognized as the most influential awards show honoring innovation and leadership in mobile entertainment, lifestyle and technology, recognizing companies from all industry strata, from start-ups to international brands. The judges for the awards show is comprised of digital and mobile industry experts and influencers.
As networks and production companies scale their content creation efforts to keep up with the ever increasing demand due to digital media platforms, efficient production operations are more important than ever. Castifi has built a robust system from the ground up offering last mile support by providing proprietary software for production teams on set.
Producers looking to deliver projects on time and in budget can cut costs while managing staff on set, reduce mistakes in administrative tasks, and save time when staffing their projects. Cast and crew members looking for work get an all-inclusive mobile experience to find work, submit paperwork, and get paid through a simple platform that continues to fuel the gig economy.
"Castifi has shown great innovation and creativity for productivity mobile apps in the entertainment industry," said Sarah Miller, CEO of Axis PR & Entertainment. "This nomination is a testament to the skill, ingenuity, and vision of its creators."
"We are honored to be nominated as a finalist, amongst other impressive organizations, for this prestigious awards ceremony," said Rum Sheikhani, CEO of Castifi Inc. "We have a lot in store for productions in 2019, and we look forward to the awards show."
The ceremony will take place Thursday, February 21, 2019 at Mr. C's in Beverly Hills, CA and will be invite only for industry luminaries and leaders from the mobile ecosystem. A full list of The Media Excellence Awards nominees can be found at http://mediaxawards.com/mobile-excellence-award-finalists/.