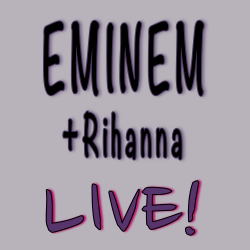 Eminem & Rihanna presale tickets are available today, and QueenBeeTickets.com has announced the availability of discounted seats for three 2014 concerts...
Germantown, Wisconsin (PRWEB) March 19, 2014
QueenBeeTickets.com widens its already extensive inventory with Eminem & Rihanna presale tickets for three concert performances coming up in August. Fans looking for tickets they can obtain early will want to take advantage of this option if they are able.
Rihanna & Eminem tour tickets will sell quickly for August shows. Fans of the stars can obtain seats for an August 7 show at the Rose Bowl in Pasadena, an event on the 16th of the month at MetLife Stadium in East Rutherford, New Jersey, and an August 22 show at Comerica Park in Detroit, Michigan.
Click Here for Eminem & Rihanna presale tickets at QueenBeeTickets.com for stops on the 2014 Monster Tour.
When fans obtain Eminem & Rihanna presale tickets for the upcoming "Monster Tour," they will have the chance to acquire their concert seats before the regular rush for tickets takes place. This is definitely an option that will be of great benefit in providing concertgoers with good seats for their chosen event.
With three concerts scheduled for the month of August, entertainment venues will book very quickly. Fans can be certain that Rihanna & Eminem tour tickets will be in great demand, especially since the tour was announced last month and music buffs have been waiting since then for presale and regular sale dates.
Each of the popular entertainers has acquired a large fan base, and many of those fans are bound to be interested in attending one of the shows in August. Live performances are the most enjoyable way to derive the greatest benefit from the music of a favorite artist. The fact that two such popular and talented singers will be performing together creates even more excitement pertaining to the three upcoming events.
QueenBeeTickets.com can provide numerous Eminem & Rihanna presale tickets in a variety of price ranges. All tickets are easy to purchase through a secure website that is also very simple to navigate, and helpful customer service representatives are on hand for patrons who would rather order their Rihanna & Eminem tour tickets by phone.
Live Customer Support
Order By Phone Toll Free
7:00am-1:00am EST
(855) 859-4033
support(at)queenbeetickets(dot)com