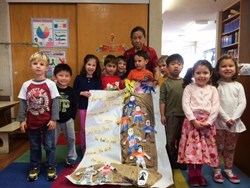 San Francisco, CA (PRWEB) February 21, 2014
Mother Goose School has spent the month of February celebrating its roots with a month full of Mother Goose rhymes. Throughout the month of February, the children recited rhymes, had discussions and created fingerplays and drama.
Mother Goose rhymes were first introduced in the mid 1700s and are still used today. Rhymes are a great tool for improving memory, developing rhythm and promoting language. The children and Mother Goose School have learned all about rhymes this past month and have developed their own.
Meanwhile, Mother Goose students also celebrated Valentine's Day and President's Day during February. Valentine's Day saw teachers decorate classrooms, a cook prepare a special valentine's treat and parents and children make cards together. The children signed their own cards for valentine's bags. Though it seems like a small thing, the signing of cards helps children learn and practice writing their own names.
Mother Goose students also learned about Presidents' Lincoln and Washington and how they helped the United States become a better union. The students also made crafts, such as the recreation of Lincoln's log cabin using popsicle sticks.
About the Company:
Mother Goose School has been serving the child care needs of families of San Francisco and the Bay Area as a day care and preschool facility since 1951. Mother Goose School is open to all children between the ages of 2 and 6. The primary focus of the school is to instill in each child a lifelong enjoyment of the learning process. The school is comprised of five developmental levels ranging from nursery through kindergarten age. Mother Goose School is open 7 a.m. to 6 p.m., Monday through Friday. They prepare and serve a hot, well-balanced lunch each day, as well as a nutritious mid-morning and mid-afternoon snack.
Mother Goose School believes that the development of the child's mind, body and character are equally important. In order to educate the whole child, their daily program includes instruction that is based on a balanced, all-inclusive curriculum. This preschool curriculum is specifically intended to provide a firm foundation for each child in preparation for any public or private school. The daily program at Mother Goose School includes academics, art and crafts, physical education and social skills. Music instruction is shared with morning classes twice weekly. Classrooms are equipped with child-friendly music. They also offer toilet training in their nursery program and a naptime every afternoon.
For more information, please visit their website at http://www.mothergooseschool-sf.com, or call them at (415) 424-4839. They tour prospective parents with their children daily at 10 a.m. and 3 p.m.