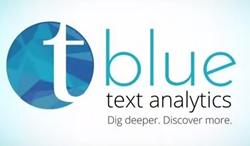 With this technology, organizations can now listen more effectively to the voice of their customers, students or employees, and ultimately enhance the overall stakeholder experience.
Montreal, QC (PRWEB) September 09, 2015
eXplorance, the leading Learning Experience Management solutions provider, announced that its new text mining tool - Blue® Text Analytics™- is now available. The solution was created in partnership with Provalis Research, the recognized leader in text analytics. The new solution enables administrators to convert assessment raw, open-ended data into insightful prescriptive analytics in order to support smarter decision-making. With this technology, organizations can now listen more effectively to the voice of their customers, students or employees, and ultimately enhance their overall stakeholder experience.
One of the greatest challenges in assessing unstructured feedback is discovering common and current themes within thousands of open-ended feedback, in a timely manner. Counting keyword frequency does not provide useful context for these terms, even when aggregated in a graphical manner, such as with word clouds. "Also, when you collect feedback, sentiment analysis is not enough. This information is often already available in the ratings and numerical scores of the assessment reports," says Normand Péladeau, Provalis Research's President. Since sentiment analysis mostly organizes feedback in broad categories such as positive, negative or neutral, making it more challenging for analysts to discover real themes in stakeholders' feedback. Most importantly, conventional methods, unlike prescriptive analytics, focus only on what has happened or what may happen, omitting two crucial aspects: why it happened and what should happen next.
In order to address these challenges, eXplorance teamed up with Provalis Research who, for over 18 years, has provided text analytics tools for education, corporate, governmental and non-profit clients in over 80 countries. "Provalis Research was a perfect match. We needed a sophisticated solution with academic expertise," says Samer Saab, eXplorance's CEO. A joint effort led to the development of a one-of-a-kind global dictionary for the higher education market. PhD researchers aggregated 1.8 million anonymized comments in order to create a hierarchy of terms that accurately reflects how today's students communicate, assisting universities and colleges from around the world in better understanding their students' needs.
Blue Text Analytics can be leveraged to provide valuable continuous improvement insights for decision-makers across all industries. Provalis Research and eXplorance's technology can be used for a wide range of applications, including customer experience surveys, employee engagement surveys, compentency assessments, and business intelligence for corporations, non-profit organizations or for consulting firms. Open-ended questions allow stakeholders to express their expectations in areas not covered by the quantitative portion of the questionnaire. Being aware of these expectations ensures that organizations continue to adapt their offerings and services in line with their stakeholder's needs (i.e., internal and external). Instead of having to read thousands of open-ended comments, Blue Text Analytics allows a summative view with focus on the most common and salient themes: What characterizes dissatisfied from satisfied respondents? What are some aspects they like? What needs to be improved?
Blue Text Analytics allows institutions to overcome the limitations of traditional alternatives, such as keyword frequency, word clouds, or sentiment analysis, in terms of distilling actionable feedback out of stakeholders' comments. "Provalis Research has always focused on the analytics part," adds Péladeau. "With our partnership with eXplorance, we can now offer to our clients a comprehensive solution by adding sophisticated data collection and reporting tools to our text analytics solution. The collaboration between the companies ensures analysts from all sectors can tap into the hidden wealth of decisional analytics using Blue Text Analytics."
To better understand how Blue Text Analytics can make a difference in your organization, watch the video on how this technology is implemented in the education arena. For other industries, contact our team of experts to see how Blue Text Analytics can assist your organization.
About eXplorance
eXplorance is the leading provider of Learning Experience Management (LEM) solutions for education, corporate, and consulting markets. By providing tools that assess needs, expectations, skills, knowledge and competencies, eXplorance assists organizations in developing a culture of improvement.
Blue® is an all-in-one assessment system that includes applications for course and instructor evaluations, 360 degree feedback, psychometric and knowledge tests, organization-wide surveys, and more. Unlike other solutions, Blue powers a cycle of continuous improvement through benchmarking, stakeholder assessment, sophisticated reporting, prescriptive analytics, and constant monitoring.
Founded in 2003, eXplorance is a privately held corporation based in Montreal, Canada. Some of eXplorance's clients include University of Louisville, RMIT University, University of Toronto, University of Groningen, UAE University, Babeson College, The American Petroleum Institute, Fidelity Marketing, IoanDepot and NASA.
About Provalis Research
Provalis Research is a world-leading developer of text analysis software with ground-breaking qualitative, quantitative and mixed methods programs. Developing text analysis programs for more than 18 years, Provalis Research has a proven record of accomplishment in designing and bringing to market tools that today are essential to researchers and analysis specialists worldwide.
Headquartered in Montreal, Canada, the company was founded in 1989. Provalis Research software products are used by more than 4,000 institutions, across all 5 continents, in a wide range of applications such as business intelligence, market research, political science, as well as international crime, risk and fraud detection, survey, and media analysis.